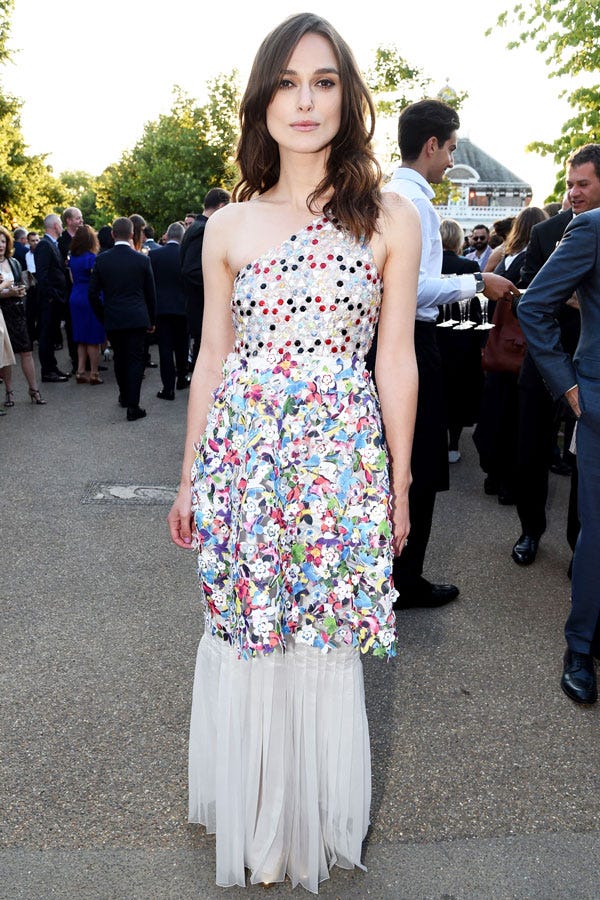 Photo: Richard Young/REX USA.
We're well-versed in dress-layering tricks. Frocks over tees, skirts over shifts — we've tried it all. But, the dress that Keira Knightley wore to the Serpentine Summer Party in London yesterday takes the trend to new, color-crazed extremes. And, it's all thanks to Karl Lagerfeld.
Dressed in one of the Kaiser's creations from the Chanel resort '15 collection, Knightley chose a look that could easily be mistaken for three styles layered into one. The dress features a spotted, one-strap bodice with bits of navy and red; a 3-D, floral-patterned pencil skirt in a clash of pinks, purples, and sky blue; and, finally, a white, flowing, pleated fishtail bottom. Not only does this dress appear to be layered, it seems like it shouldn't make any logical sense at all. However, leave it to Keira — and her
wedding-dress-recycling
,
Grace Kelly channeling
,
multi-talented
ways to show just how harmonious this Chanel design actually is.
And, because we can all agree that this ensemble shines all on its own, Keira wisely let the rest the rest remain au naturale — a look this starlet has mastered with aplomb.
Click over to page two to see how this three-in-one creation first looked on the runway in Abu Dhabi this spring.
There you have it: Chanel's very own color- and texture-rich layered dress, perhaps even better off the runway than on.