Photo: Jonathan Hordle/REX USA.
When your social calendar is as jam-packed as Kate Moss', mastering the art of the party hop is no easy feat. There are people to air kiss, Champagne to be sipped, and cameras to smize at all before a swift, graceful exit and rush off to the night's next event. Tiresome for some, child's play for Moss.
As luck would have it, the British Fashion Awards and the Playboy 60th-anniversary party happened to take place yesterday evening. And, while Moss made appearances at both, she also didn't miss an opportunity to pull the old switcheroo and change outfits mid-festivities.
First, at the awards ceremony, Moss opted for a Marc Jacobs LBD with a slick finish, sweetheart neckline, and pleated skirt. It was the perfect contrast to her fuzzy, cream-colored topper, also by MJ. Yet, for the Playboy shindig, the cover girl amped up the party vibes in a completely different way. Click over to see that transformation.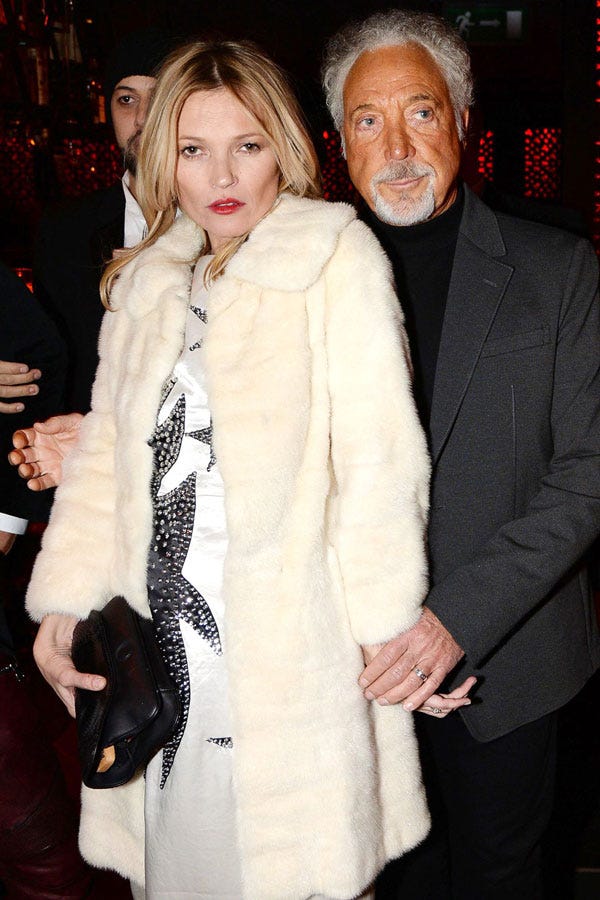 Photo: Richard Young/REX USA.
For the evening's next stop at the Playboy bash, Moss dazzled in a silver dress that featured a burst of black sparkles down the front. While our intuition says to switch from a long gown first into a short dress, we love that the model took a different route. And, despite her second use of the fur topper, the two outfits — contrasting in colors and lengths — end up feeling quite unique. Heck, this one even comes with a Tom Jones accessory.Take notes now, hoppers, before all of the holiday hoopla begins.