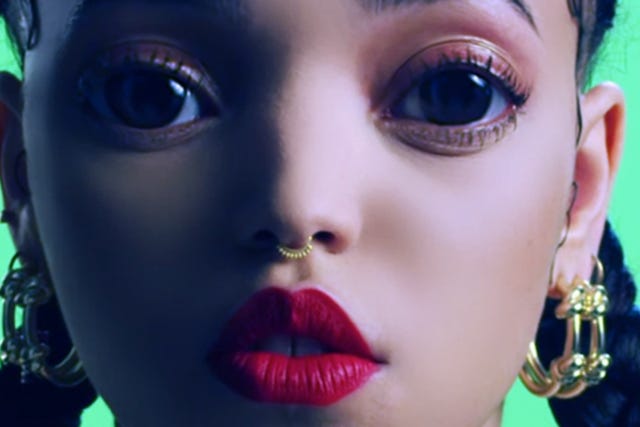 Photo: Courtesy of FKA Twigs.
Before you get all, "Psh, BFD!" on me, you need to know a couple things: I have two piercings, and they are both in my earlobes.
The closest I've come to any further body modification was in high school, when I accidentally stabbed ink into the back of my heel by stepping on a pen. I now have a permanent green blob on my foot that, at best, looks like a suspect mole. A tattoo it is not, but it certainly says a lot about me (I am a klutz).
And, my feelings toward nose rings? An incident in which one of my pals pulled out another's tiny, tasteful nostril stud with a "whip" of her hair while we danced our freshman hearts out in a black-lit basement in college turned me off those once and for all. It also reminded us all that we will never be as cool as Willow Smith.
Needless to say, I am not much for body mod. On top of that, when it comes to jewelry, I like to describe myself as a "minimalist," which is really just a word I abuse to excuse my own laziness as aesthetic intent. For example, "No, my
nail polish
is not chipped. It's minimalist. Don't you know a distressed, half-moon mani when you see one?" On that note, I've gone half a year at a time totally earring-less. So, hardware that goes smack dab in the middle of my mug kind of terrifies me. And, despite being unapologetically front and center, septum rings still aren't nearly as mainstream as their nostril-adorning neighbors.
But, it looks like that's about to change. We've seen Rihanna, Zoe Kravtiz, Lady Gaga, and the formidable FKA twigs all rocking nose bling recently, teaching us that a ring doesn't necessarily equal commitment after all (har, har). Though none of these cool kids exactly "discovered" the septum ring, they've certainly made an exciting case for the septum cuff — exciting enough that my clumsy, minimalist, non-committal self thought I'd trot one out for a try.
Photographed by Nicolas Bloise.
"Septum CUP?!" was actually the first thing one of my hard-of-hearing friends exclaimed en route to dinner when I explained what was on my face during the first week of my experiment. Neither of us was sure what a septum "cup" was, but we agreed that it sounds like a very unfortunate cross between a Neti Pot and a medieval menstrual device.
Fortunately, in my two-week test run, no other reactions were as dramatic or misunderstood. However, I did get some double-takes from my barista and a couple of shrieks from friends who thought I'd actually pierced my nose in some post-graduate rebellion or reinvention. One former classmate even stopped me mid catch-up at a dimly lit bar for an impromptu mouth inspection, thinking I had pierced my tongue as well even after I'd clarified that I'm just a lame poser. None of this surprised me, but I was particularly excited to see what amusing reactions I'd get from strangers, especially guys. While I don't dress for the opposite sex, I'll admit that I'm often amused (and occasionally offended) by their responses to my more out-there ensembles.
The last time I wore something of the nature to a preppy pub, a lovely young gentleman told me he "dug my dungarees" and then inquired if I was wearing
underwear
under my saggy-assed, Huck Finn boyfriend-fit denim overalls. Yes, underwear. Maybe some men don't understand
trends
, but this dude clearly lacked basic knowledge of how clothing works.
Because of interactions like this, I half-expected some last-call Casanova to try and pick me up like your creepy, un-funny uncle; delivering a knock-knock joke as he mimed using my septum cuff as a door knocker. Who's there? My drink. In your face.
Instead, my own reaction to my cuff mattered the most. Though at first, the new sensation made me extremely aware of the metal slightly up my snout, I liked the way it made my feel on the (non-nonstril) inside. Not saying I had an LOTR moment or anything. The ring didn't make me feel invincible or go crazy, but I did dance with a cute guy. Causation or correlation? Who knows? Don't care. (He never even acknowledged it by the way).
Though I'm sure many of you have read (and Instragrammed) Sophia Amoruso's #GIRLBOSS, the Nasty Gal knowledge she imparts regarding personal style has never rung truer than in the case of the cuff.
"We've all seen girls who constantly tug at their dress, re-adjust straps, and mess with their hair. If you're not confident, no dress, no matter how smoking hot it is, will solve that problem for you."
You think fidgeting with fabric looks bad? Just picture a chick picking her nose non-stop. Are you doing that? Good, you're now picturing me right before I caught myself perfecting my "piercing" in a café mirror well into my second week wearing it. Just don't.
Though mine felt fine physically, if a more ornate cuff sounds about as appealing as an escaping petrified booger to you, just opt for a thinner, simpler one. A few more tips: It's counterintuitive, but a twisted metal style offers a more subtle sparkle compared to the full-on shine of a smooth gold hoop. Plus, you can even pinch and push up your cuff so that it only peaks out as a metallic band at the bottom of your nose and doesn't dangle — this shouldn't hurt at all.
Want to go bigger and bolder instead? Don't be so nose-minded and consider your cupid's bow. Rihanna's Meadowlark Jewelry "Thorn" ring fits into her pointy pout like a puzzle piece. Pick up a cuff that compliments your upper lip.
But the most important piece of advice I have to offer is — and I say this with the gravity of the elderly shopkeeper in Gremlins — CLEAN YOUR CUFF! This is not an earring, people. As great as the cheap cuffs off of
Etsy
are for trying out the trend, you'll want to spring for something at least coated with a higher quality metal to avoid gross rusty gunk once you want to commit semi-longterm to this non-committal alternative.
Though nose piercings, like many other forms of body modification, are actually pretty universal, what we use to adorn those piercings can be culturally specific. For example, Hindu bridal naths are not just your average nostril ring. You may appreciate them for their beauty but they deserve to be appreciated for their meaning above all else. No one can "pull off" cultural appropriation. Be mindful of the pieces you're picking. And as for any nose cuff brands that include "ethnic" in their product names or descriptions (they're out there, folks), feel free to give them an exorcist-level eye-roll, but maybe not your money.
Still don't think you can "pull off" a septum cuff? Before I go off on a diatribe about how much I despise the expression "pull off," let me just say this: It's fall, go try something new. (Now, let's all give me a pat on the back for resisting the urge to make a "Septumber" pun for the entirety of this post. We can all agree I've achieved a lot here.)