Occupation:
"Project Manager in the Visual Design Department at rag & bone."
What were your first pair of jeans?
"Not sure, probably something with elastic in the waistband, straight-up infant style."
What are you wearing?
First Look: "rag & bone Dobby Weaver Trail II shirt, rag & bone Parker blazer, rag & bone RB15s, and 3.1 Phillip Lim shoes."
Second Look: "rag & bone leather jacket, Levi's Robert Geller denim vest, Levi's Vintage 1920's Chinos, rag & bone Nilsson Hiker sneakers."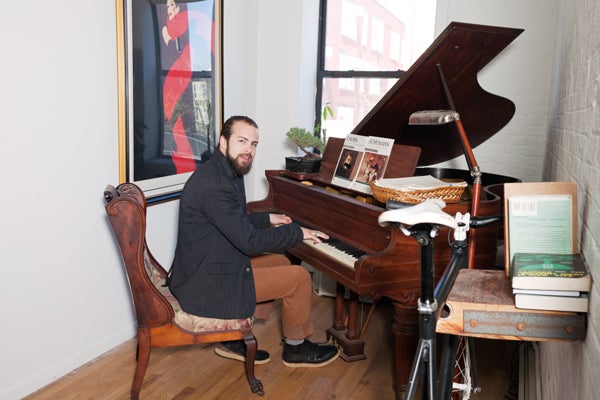 How many pairs of jeans do you own?
"I just got rid of a lot of denim recently, and I still own at least 10 pairs. I may or may not have a problem."
Do you have a preferred philosophy when it comes to jeans: Sexy and skinny, or loose and comfy? 
"I jumped on the skinny trend a while ago but find myself enjoying a loser fit lately. Loose, dropped, and cropped is how I like to roll."
What's your signature wash...or does it matter?
"Doesn't matter. One of the great things about denim is its flexibility when taking on a wash. Weather it's stone or over dye, it's going to look great on someone."
What's your favorite way to wear your jeans and with what?
"My favorite way to wear my jeans is rolled in the spring with low-top sneakers and a T-shirt."
If your jeans had a name or theme song, what would it be? Or do they?
"I'm a dork and name my jeans by the mill in which the denim was produced, the fabric content, and fit style. I can thank rag & bone for that. Kaihara, Black Confetti Slub RB15's, anyone?"
Favorite example of celebrity-jean wearing (i.e., Bruce Springsteen's Born in the USA album cover). 
"Four words: Cindy Crawford Pepsi Commercials."
What do you love most about your favorite denim pieces? 
"The story that comes along with it; like women and wine, they get better with age."
Photographed by Kava Gorna. Casting by Megan Delaney.