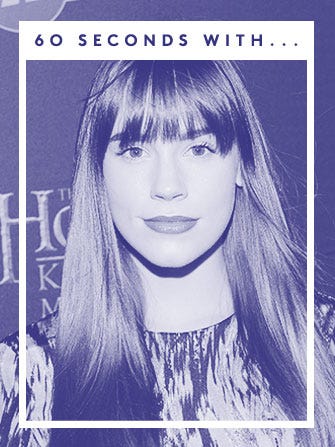 Photo: Michael Buckner/Getty Images/Kabam.
Already having Revenge withdrawal after last night's finale? You're not alone. How about a little chat with Christa B. Allen, a.k.a. Charlotte Grayson, to ease the pain? We sat down with the actress at the launch of Kabam's mobile game The Hobbit: The Desolation of Smaug Expansion Pack to talk about unexpected visitors, flea markets, and her crafty side.
What's your favorite part about being on Revenge?
"Oh, Lord. Being an employed actor in Hollywood is nice. But, in all seriousness, it's nice to be part of a show where I feel like we have a really collaborative environment. I can always have input on the show and the character. So, you always feel like you're working — it's not like something is just thrown in front of you and you have to act this, you know? You can have input."
Advertisement
ADVERTISEMENT
Any funny stories from the set?
"There's a squirrel that comes to visit us. Sammy the squirrel lives under the trailers and he's always coming to visit. We all keep nuts in our trailer and we'll feed him."
Do you have any holiday traditions?
"Lots of food. I don't really have specific traditions as far as going away and stuff like that. I've yet to form those."
What are some of your favorite places to shop in L.A.?
"I love Barneys. Reformation is amazing as well. I also love to hit the flea markets, like the Melrose Flea on Sundays is really nice. I like to find different stuff — things that you can make better. I love to D.I.Y. — I'm a little like Martha Stewart."
What kinds of things do you like to make?
"I like finding old furniture that has good bones, you know? Then, you go to Mood Fabrics and pick out something, and if you have a staple gun you can pretty much reupholster anything. My roommate just came to me and said, 'Christa, can you help me make a headboard?' I was like, 'Baby, I got you covered.'