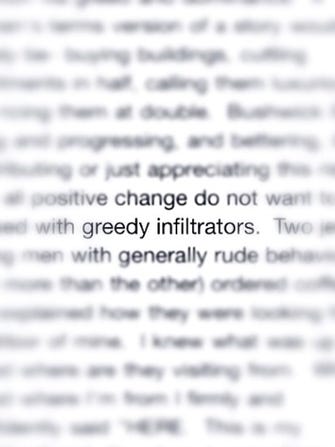 Photo via @bushwickcoffeeshop.
Can you imagine following a new Bushwick coffeehouse on Instagram only to have crazy hate speech show up in your feed? Yesterday, The Coffee Shop posted
a disturbing message
on its account, calling out Jewish people as "greedy infiltrators" who "function via greed and dominance."
DNAinfo New York
has confirmed that the coffee shop's owner, Michael Avila, is the writer behind the hateful screed, which was aimed at two men looking to buy a neighboring building. His version of the story? Not only is he "certainly not anti-Semitic," but people are taking the post way too personally and his message was misunderstood.
"I think there's a difference between progression and greed," he told the website. "It really isn't a race thing or a culture thing. But, it tends to be the Jews [who are buying up properties in Bushwick]."
A post on Avila's
personal Facebook page
only reinforces how out of touch with reality he is: "Sometimes I cause a little trouble just because I know I can handle it. I'm pretty good with the fine line so I go for it."
If Avila's anti-Jewish rant was meant to be a publicity stunt, then he certainly has everyone's attention now. But, we'd be very surprised if he continues to have their patronage. (
Brokelyn
)