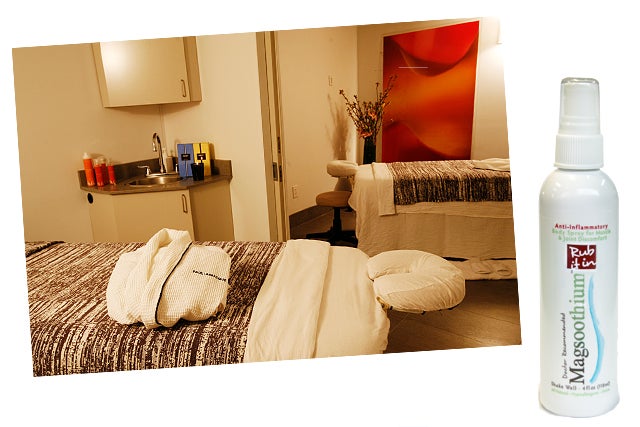 Photos: Courtesy of Paul Labrecque.
As any exercise enthusiast knows, feeling the burn is the best signifier that you are getting a great workout. Less satisfying?
Feeling the burn, magnified by a billion times, the next morning
in your achy muscles. Rather than pop aspirin like Tic-Tacs, the
Paul Labrecque Salon & Spa
has a more pampering way to soothe your sore bod: the new Restorative Mineral Massage.
The treatment centers around the
Magsoothium
line of products —
magnesium sulfate-based lotions and potions that are used by professional athletes
. The treatment begins with the massage therapist spraying your body, section by section, with the Magsoothium spray. She then begins to knead muscles, applies the Magsoothium cream, and continues with the massage, focusing in on those areas that are giving you the most issues.
According to the salon, the magnesium massage helps reduce muscle inflammation and soreness, helping you to recover and heal faster. It can also help reduce stress and relax joints and muscles, helping to minimize the potential for injury. We found it to be an excellent recovery for our poor, exhausted, post-NYFW bodies — the combination of the spray's cooling tingle and the masseuse's deep tissue work was nothing short of heavenly — but for the more ambitiously active peeps out there this is a great option after a big fitness event. Calling all ING NYC Marathon runners....
Where: Paul Labrecque Salon & Spa at the Sports Center at Chelsea Piers, Pier 60, 2nd floor
How Much: $145 for 60 minutes or $175 for 90 minutes
Bookings: Call 212-988-7816
Like this post? There's more. Get tons of beauty tips, tutorials, and news on the Refinery29 Beauty Facebook page!