Thanks a lot, Obama MObama. Before we spied this picture of you looking downright adorable in a pretty Duro Olowu number, we were planning to spend our Labor Day weekend lazing around in cut-offs and Chucks. But now? Definitely not.
With this image alone, we're feeling inspired to mix some prints — or, at the very least, slip into a floaty, floral dress. (Also on the to-do list? Trying to replicate
that awesome new 'do
.) And, just when we were starting to feel a wee bit burned out on the whole high-low hemline thing, leave it to a romantic, feminine frock like this one to hook us back in. Best laid plans, right? Now, if you'll excuse us, we need to go reassess our weekender bag. (
Red Carpet Fashion Awards
)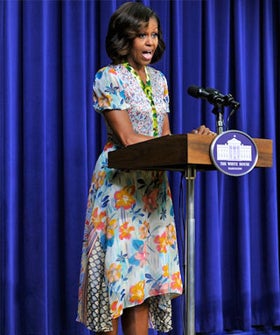 Photo: Via Red Carpet Fashion Awards.