Food, like fashion, tends to cycle through some serious fads. While high-top sneakers are getting stamped out for high-wedge kicks, your routine macaroon fix is also getting the shuffle, replaced with something a little more…on trend.
And, this season outdoes them all. Craving some nostalgic campfire bites? Got 'em. Feel like putting booze in that cake? No prob. We've picked out five of this year's trendiest dessert waves and the best spots to scoop 'em up, stat. In fact, we suggest you rev up the engine and hop on the PCH now—while you're still ahead of the curve.
Phototographed by Phoebe Chuason; The Affogato at Cecconi's
BOOZY
The booze bus has been making frequent stops in some of our favorite dishes for some time now, but lately, libations have gotten...let's just say, lush, and singing a sweeter tune. Behold — adult treats that pack a punch and will surely lift your
spirits
.
Affogato Al Negroni at Cecconi's
Since the Negroni has quickly skyrocketed to the number one cocktail of choice around town, we're not surprised that Cecconi's is taking that popularity to the next level and turning it into a nightcap and a dessert. This bitter-yet-balanced drink, when paired with the restaurant's amazingly tart, housemade blood-orange sorbet, is sure to end your evening right.


Cecconi's, 8764 Melrose Avenue (At Robertson Boulevard); 310-432-2000.

Advertisement
ADVERTISEMENT
Sip-Sicles at The Viceroy Hotel
Nothing screams staycation like a cocktail by the pool. With summer in full swing, sometimes you've got to get clever on where you get that ultimate cool down. So, it's time to saddle up to a frozen Greyhound or the Mojito-on-a-stick (you've got to try it). Call it, AC on the go.


The Viceroy Hotel, 1819 Ocean Avenue (At Pico Boulevard); 310-260-7500.


Photo: Courtesy of Top Round Roast Beef; Frozen Custard
NOSTALGIC
There is no greater comfort food than an old fashioned dessert, and these childhood-inspired confections are sure to bring out our inner 8-year-old, crazed sugar high and all. Just don't tell the 'rents!
Frozen Custards & Shakes at Top Round Roast Beef
If there is one thing we could bring back in a time machine, it would be a legit soda fountain. Some days beg for a chilled custard or old-fashioned milk shake — luckily, Top Round has you covered. Pro tip: Get your custard "concrete" style with all your toppings mixed in. Or, just get crazy and order off the menu and ask for a strawberry pistachio swirl shake. Oh, sweet rebellious youth!

Top Round Roast Beef, 1000 S La Brea Avenue (At Olympic Boulevard); 323-549-9445.
S'mores at Luna Park LA
Bring the campground tableside with this DIY dessert. Warm pots of molten marshmallows and melted bittersweet chocolate are perfect for dunking their housemade graham crackers in. Your hair won't even smell like smoke at the end of the night, so no guilty fingers pointed.

Luna Park LA, 672 S La Brea Avenue (At Wilshire Boulevard); 323-934-2110.
Advertisement
ADVERTISEMENT
Oatmeal Cookie Sandwich at Willie Jane

What could be better than two warm, fresh-made oatmeal raisin cookies? How about stuffing it will mascarpone and drizzling it with caramel? Oooh yeah! This sweet sammie is unlike anything we ever had in our school lunchbox, so we'll take two please. Who cares if it spoils our dinner? There's a well-balanced meal in there somewhere...
Willie Jane, 1031 Abbot Kinney Boulevard (Between Broadway Street & Westminister Avenue) 310-392-5768.
Gourmet Popsicles at Suck It Sweets

The menu readers like a dream: Nutella with Hazelnuts, Galia Orange Blossom, Black Velvet with Pistachios — and our personal fave, Honey Dew Rose Water with White Chocolate Chips. Oh, sugarcoated swoon! Our sweet tooth is spinning with the selection of these upscale, frozen treats. Ultimate dessert on a stick, right here.

Suck It Sweets, 4361 ½ Tujunga Boulevard (At Woodbridge Street); 424-239-1630.
Photographed by Phoebe Chuason; The Downfall at Hyperion Public
SALTED CARAMEL
Salted Caramel is basically the PB&J of the dessert world. The classic combo is both savory and sweet, and has spawned numerous iterations on dessert menus everywhere, but here in L.A. — the options are unexpected and insanely delicious. Dig in!
The Downfall at Hyperion Public

Holy heaven. You better save room after dinner, because this pie is so decadent and — allow us to say — perfect. The only real downfall here will be your inability to not lick the plate clean. But, you can go ahead and try...

Hyperion Public, 2538 Hyperion Avenue (Between Griffith Park Boulevard & Tracy Street); 323-761-6440.
Salted Caramel Croissant at Olive & Thyme
We break for croissants and this salted caramel variety has our tires squealing. Flakey, sticky, and perfect with a cappuccino, you might as well order more than one, because you'll want a repeat pastry pit stop sooner than expected.

Olive & Thyme, 4013 Riverside Drive (At Alamida Avenue); 323-739-6125.
Advertisement
ADVERTISEMENT
Salted Caramel Ice Cream at Sweet Rose Creamery
Sweet Rose Creamery makes some of the most mouthwatering scoops in town. This Salted Caramel is no exception. Unusually silky, with a little sprinkle of fleur de sel, this cone will be on the top of your crave list before you've even crunched down on the cone. Make it a double.
Sweet Rose Creamery, 225 26th Avenue (At San Vicente Boulevard); 310-260-2663.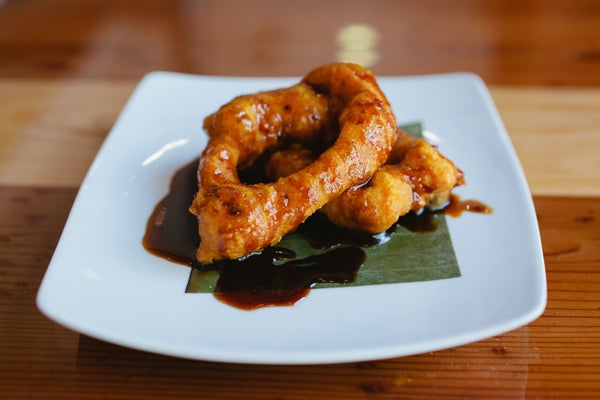 Photographed by Phoebe Chuason; The Picarones at Mochica
VEGGIE-CENTRIC
Mama always said to eat your vegetables, and we're finally heeding the call. (Okay, so maybe she didn't mean in dessert form, but we're all for creative renditions.) From radishes to sweet potatoes, you best bet we'll be asking for that second helping!
Radish & Beet Sorbet at Café del Rey

We're pretty sure we'd eat anything in sorbet form, and these plant-based dollops are no exception. Surprising flavors like radish and beet are refreshing and bright. These chill treats are perfect for a summertime cool down, and best enjoyed with that stunning view of the marina, right at sunset.

Café del Rey, 4451 Admiralty Way (In The Marina); 310-823-6395.
Picarones at Mo-Chica
This Peruvian dish might date back to the colonial period, but this fried sweet potato-and-kabocha squash beignet slathered in a chancaca sauce is very of the moment…that is, until we scarf it all up!

Mo-Chica, 514 West 7th Street (Between Grand Avenue & Olive Street); 213-622-3744.
Sweet Corn Crêpes at Napa Valley Grille

Gluten-free alert! These subtle, sweet corn crepes are surprisingly not very sweet, as to pair perfectly with fresh blueberries and vanilla ice cream. And, they're deliciously light, so there's always room to splurge for one of these babies at the end of the night.

Napa Valley Grille, 1100 Glendon Avenue (Between Westwood Boulevard & Lindbrook Drive); 310-824-3322.
Advertisement
ADVERTISEMENT
Photographed by Phoebe Chuason; Crullers at Plan Check
DONUTS
While us Angelinos wait patiently for the arrival of a proper cronut (or was it donissant?), we still need to get our weekly dough fix. Where the donut itself is nothing new, the ingredients, technique, and growing appearance on restaurant menus is definitely causing waves. Make that sugary waves.
Miso Donuts at Hinoki And The Bird


There's been a lot of buzz about Hinoki & The Bird, and the miso donut with tart, calamansi crème definitely makes it on the must-see, must-gobble list. This sophisticated sphere is unlike any other doughy delight, keeping us surprised with unusual flavor notes and its perfectly light and airy texture. Take us away!

Hinoki & The Bird, 10 Century Drive (At Avenue Of The Stars); 310-552-1200.
Crullers at Plan Check
Who doesn't appreciate a donut that's cooked to order? Freshness is crucial when it comes to circular treat consumption. Plan Check's crullers are perfectly crispy on the outside, with the appearance of an infinity churro — one bite of this magic reveals a cloud-like pillow of happiness. This is what dough dreams are made of, people.

Plan Check, 1800 Sawtelle Boulevard (At Nebraska Avenue); 310-288-6500.
Brioche Donut at Simmzy's Pub
Essentially an apple pie in donut form, this soft-fried brioche darling is filled with crisp apples, topped with salted caramel and pistachios. Okay, seriously, stop the presses — this is the motherlode of hybrid-fried delights in a deliciously convenient form. Bring on the stretchy pants while you're at it, because you're going to want to eat a few of these.

Simmzy's Pub, 229 Manhattan Beach Boulevard (At Highland Avenue); 310-546-1201.
Jets To Basil at Donut Friend
We are straight up giddy about this soon-to-open donut shop, offering unusual flavors with band-inspired nicknames. Rock out to a flavor symphony such as "Jets To Basil," an airy confection filled with goat cheese, strawberry jam, fresh basil and a balsamic glaze. Or, shred a chocolate chord with the "Fudgegazi." Either way, these are some righteous rings!

Donut Friend, 5107 York Boulevard (At Avenue 51); 213-995-6191.