Not all celeb stylists are created equal, so when we watch a red carpet, we expect to see a few breakout successes, a handful of hideous moments, and a whole lot of meh.
But tonight at the VMAs, plenty of people looked good — the only problem was that they all looked the same. Seriously, we saw a lot of weirdly similar hairstyles, beauty looks, and dresses. If this were Mean Girls (which it may indeed be), heads would be rolling right now.
Hit the jump and tell us if these resemblances are totally uncanny or completely different. Maybe these celebs need to get together on a Google doc so they can compare outfits the night before — because this is just awkward.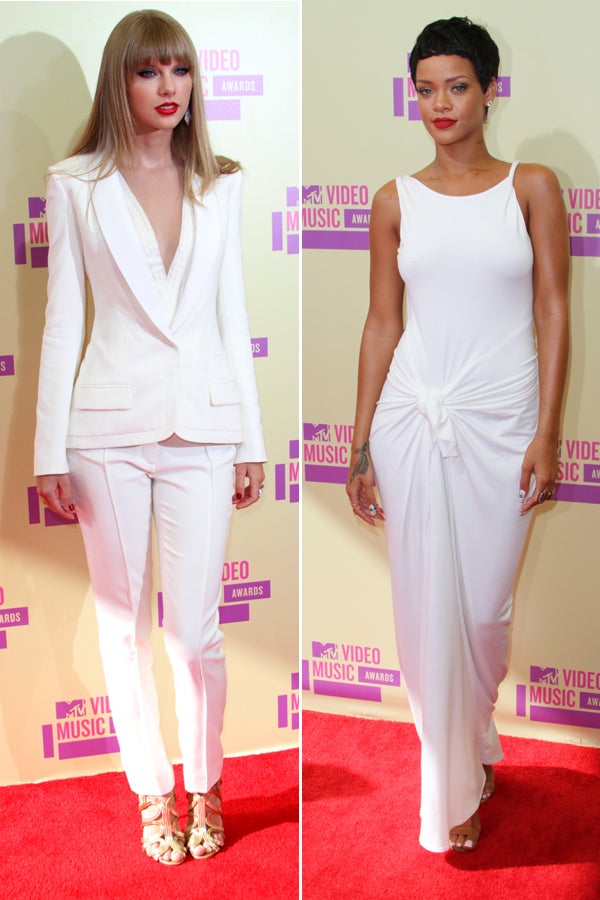 Rihanna wears a vaguely Grecian white gown (and a
new haircut
) in her Adam Selman floor-length dress. Taylor Swift wears a crisp J. Mendel suit. Um, hello, it's after Labor Day...this can't be a coincidence. Both opted to be full-length visions in white.
Photos credit: Matt Baron/BEImages
While we love her Pucci stunner, we gotta blame Miley for this one — everyone knows that's P!nk's signature 'do. And she looks mad.
Photos (from left): Matt Baron/BEImages; Everett Collection/Rex USA
Nicki Minaj's insane Versace onesie is beyond comparison, but still — two sheer, beaded, skin-tight jumpsuits on one night? There's gotta be something in the water.
Photos: Everett Collection/Rex USA;