Money. We all need it. And, we all think about it. A lot (especially when it comes to splurging on that Fire Island share or dreaming about that one
magical pair of shoes
— or thinking about whether you'll ever be able to
afford NYC real estate
). But, we rarely talk about it in real numbers.
Your exact salary? That's probably something you share with...next to nobody. Or, your accountant and your partner. So, there's an air of mystery when it comes to understanding what other people make. And, how much you realistically need to make to live comfortably in any neighborhood.
That's why we're piercing the veil a bit, with some help from our friends over at
Address Report
. We're breaking down the median income (for individual earners) by the top 10 neighborhoods in Manhattan and Brooklyn. (But, we take requests, so if you'd like to see other areas covered, shout 'em out in the comments.) Below, what that breakdown really looks like. And, up ahead, what that means for men and women in NYC.
Designed by Sydney Hass.
The 10 Wealthiest Neighborhoods In Manhattan

1. Battery Park City: $105,000
2. Tribeca: $98,000
3. Columbus Circle: $88,000
4. Financial District: $84,000
5. Noho: $80,000
6. Flatiron: $77,000
7. Tudor City/Turtle Bay/Sutton Place: $75,000
8. Murray Hill: $74,000
9. Upper East Side: $73,000
10. West Village: $68,700
Click ahead to see the highest earning neighborhoods in Brooklyn.

Want even more R29? Get the latest news, tips, and can't-resist stories delivered straight to your newsfeed, in real time.
And, then, here is the map of Brooklyn's top 10 neighborhoods, by median income.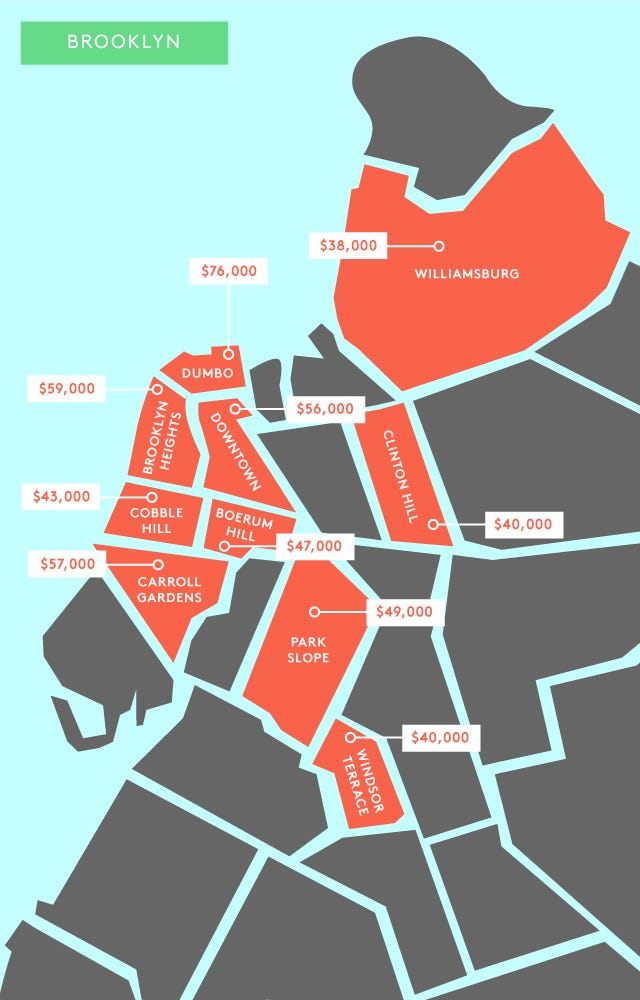 Designed by Sydney Hass.
The 10 Wealthiest Neighborhoods In Brooklyn

1. DUMBO: $76,000
2. Brooklyn Heights: $59,000
3. Carroll Gardens: $57,000
4. Downtown Brooklyn: $56,000
5. Park Slope: $49,000
6. Boerum Hill: $47,000
7. Cobble Hill: $43,000
8. Clinton Hill: $40,000
9. Windsor Terrace: $40,000
10. Williamsburg: $38,000
Designed by Sydney Hass.
But, that's most definitely not the whole story here. What we found most compelling — and upsetting — was the huge disparity in income when you break down the top 10 neighborhoods in each borough by gender. We're talking about a $170,000 difference between men and women in Manhattan's top-earning neighborhood. And, a $63,000 difference in the #10 neighborhood on the list.
Designed by Sydney Hass.
A slightly less disparate story in Brooklyn, but it's still not great, with a $42,000 difference at the top-earning spot and a $30,000 difference at the #10 spot. And, it's not because women are under-represented in the work force, either. According to a
2013 report from the mayor's office
, women made up 53% of the workforce in NYC in 2012 — and it's safe to assume that balance hasn't shifted dramatically in the past year and a half.
So, essentially, women make up more of the workforce, but just make less than men, across the board, across neighborhoods, across boroughs, in NYC. It's something we've heard many, many stories about, from the top down, but seeing the numbers laid out like this is eye-opening.
And, it's an important call to women to push for more money. So, in service of exactly that, we spoke to
LinkedIn career expert Nicole Williams
, for a few simple tricks to empower you to negotiate and ask to be paid what you deserve.
How do you psych yourself up to ask for a raise?
"Think of negotiating as a muscle. The more you flex it, the better you'll be. Plenty of women have asked the same questions and have been in the same situations. Reach out to a mentor on LinkedIn. Do an Advanced People Search to find a professional woman in your field. Send her an InMail request and ask her to pass along her words of wisdom. You don't need to divulge numbers and other personal details, but it's extremely valuable to understand how a current employee was able to successfully negotiate with a company. Was she able to negotiate a signing bonus, salary, flex-working, or vacation? Having someone in your corner will help boost your self-esteem and remove the fear from negotiation."
How do you deal with nerves when you're in conversation?

"Practice, practice, and then practice again! This ask is as much nonverbal as it is verbal, so there might be nonverbal cues like facial expressions and voice intonation that you're communicating because of your comfort level. These nuances will let your boss know you're uncomfortable, and that's going to work against you if you don't practice beforehand. Be prepared and confident, and your poise will shine through!"
What's the next step in solving the larger issue of income disparity?

"We keep the conversation going. Strike up a discussion in a professional group, and share articles that highlight this issue. Offer to speak on a panel for students graduating from your alma mater. Recent graduates can always benefit from learning the art of negotiating. Acting as a mentor will help you become more confident in return. The more we talk and educate people, the more well-versed professionals we will be going forward."