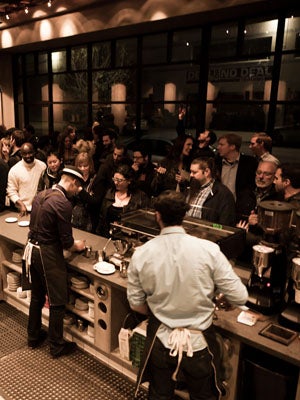 If anyone tries to tell you there's anything out there comparable to a satisfying, rich, and velvety cup of coffee, they're lying to you (um, we take our caffeine very seriously around here). What can we say? We enjoy the artisanal aroma of freshly imported beans being roasted by some of the most passionate baristas around. And if that makes us "coffee snobs," then so be it.
So, obviously, we are thrilled that the much-anticipated
Handsome Coffee Roasters
finally opened its doors last Saturday (after a few false alarms) for all to marvel in its rustic greatness. Three java-wielding experts helm the Arts District haven: Tyler Wells, Michael Phillips, and Chris Owens (who all have beyond-impressive backgrounds in the biz) — and these guys
know
what they are doing. (They also all happen to live up to the spot's sexy name, for the record).
We can't wait to get our tushes downtown to sip some brew (and meet the boys) ourselves! See you there?

Photo: Courtesy of M4 Photographic