It's been 37 years, but the great American travel magazine,
Holiday
, lives again. Let the wanderlust begin. (
The Cut
)
Another cultural staple is being revived, too. The inevitable big-budget, live-action Power Rangers movie is coming. (
Forbes
)
Scientists at the Scripps Research Institute have successfully created an organism with an artificial genetic code. This means the selection of building blocks for life just got a whole lot wider, while the question of man playing god is ringing louder than ever. (
The New York Times
)
Additionally, space researchers are urging NASA to turn its sights away from Mars and on Europa, Jupiter's moon, for signs of life. (
Aeon
)
Research has also discovered that the Dementors in
Harry Potter
are, in fact, real and exist in the form of a new wasp species. Better brush up on that Patronus Charm. (
IFL Science
)
In more discovery news: A new species of dinosaurs was found in China. Hopefully the Tyrannosaurus rex is all right with another family member. (
The Guardian
)
A "healthier" e-cigarette is on its way, but you're going to need a prescription to use it. (
Quartz
)
Finally college has been touted as the best four years of anyone's life, but that cliché might have to be rethought considering a recent Gallup survey of 30,000 grads claims it was anything but. (
Inside Higher Ed
)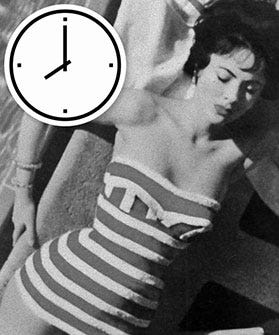 Photo: Courtesy of Holiday Magazine.