Let Otis' sexual awakening begin. After his epic season 1 finale wank fest, Otis (Asa Butterfield) can't seem to give his hand a break.
Sex Education
season 2
's opening moments are dedicated to him loving himself. Otis' comfortability with his own member isn't the only thing that's changed since last season. He's now dating Ola (Patricia Allison), while his sex therapist mum Jean (Gillian Anderson) is getting it on with her dad Jakob (Mikael Persbrandt).
Maeve (Emma Mackey) is still suspended
, which means Otis is giving his clinic a break. At the worst possible time, mind you, since a STI outbreak shows just how much Moordale needs sex advice — both the students and their parents.
Adam (Connor Swindells) is off at military school trying to sort through his feelings for Eric (Ncuti Gatwa), who is trying to make it happen with the new kid in school. He's French,
ooh la la
. Luckily, all this really means is that this NSFW British teen drama is still well, NSFW. So get ready to get very familiar with your couch because it's time to binge-watch all
eight episodes of
Sex Education
season 2.
Cue the Divinyls.
Otis doesn't want anybody else, when he thinks about B-movies, brie, and the scantily clad woman on the shampoo bottle he touches himself. Unfortunately, his inability to control his urges results in him ejaculating all over his mum's car window with her standing on the other side. Jean is a cool mum so she sees this as an opportunity to commend his recent sexual advancement and also encourage him to not masturbate in public places since, you know, that's illegal.
She also sees their breakfast chat as a step forward in their relationship, but Jakob is hiding in her bedroom because she's too scared to tell Otis she's dating his girlfriend's dad, so maybe not? Anyways, Otis would prefer to talk to Eric about his recent pre-dick-ament (sorry, had to). When not laughing at the fact that Otis' penis has complete control over him, he does offer a bit of advice. Stop wearing corduroy pants, "too much friction."
Now that Maeve's no longer at Moordale, Otis has taken a sabbatical from his sex clinic. He's just focused on Ola, who is officially his girlfriend and is now going to Moordale. She becomes fast friends with Lily (Tanya Reynolds), whose Mean Girls-esque tour of the school makes me love this pairing and want more of them this season.
But no time for that now, there's a chlamydia outbreak at the school and everyone is freaking out. Just when Otis thought he was out, they pulled him back in with Eric as his new scheduler. Eric is also the Watson to his Sherlock as they attempt to figure out who actually has chlamydia. It's definitely not Jackson (Kedar Williams-Stirling), who is spiralling out of control. The drastic measure he takes — willingly getting his hand crushed in a weight machine — to get out of swimming is painful to watch.
So where is Maeve? Well, she's working at the British equivalent of Auntie Anne's Pretzels until she sees her mum Erin (Anne-Marie Duff). Everyone in Maeve's family seems to just show up without warning. Erin, who is now in a 12-step program, wants to apologize but Maeve isn't interested in another "I'm sorry."
And Otis isn't interested in another awkward sexual encounter, but here we are.
After having trouble getting it up with Ola, he falls down the stairs where he sees his mum having sex with Jakob. Honestly, though, Jakob breaking the coffee table with his bare ass is a sight to behold. When Otis hears that his mum is dating, something she usually doesn't do, he feels betrayed by her again. Detecting a pattern here, how about you?
Meanwhile, to neutralize the "chlamydia outbreak," an emergency parents meeting is called. Of course, Jean is the star here explaining that misinformation is the real problem. Let's give it up for her three T's: Trust, Talking, Truth. While we're at it, snaps to Eric's laugh when Otis admits he thinks he ran out of erections and Maeve's new hair colour, which is now a lovely shade of auburn.
Maeve's most baller move is showing up to her old school with a stack full of essays that she wrote for other students. "If you let me back in, I won't tell everyone that your school is full of cheats." When Mr. Groff (Alistair Petrie) doesn't, she reads them over the PA for the school's no-nonsense chairman to hear. But not before a run-in Otis, who tells her he misses her. Aww. Of course, all this gets overshadowed by the girl fight that Otis ends up breaking up with his face. It's interesting though that Maeve is able to solve the mystery of who started the chlamydia outbreak within minutes of being back at school. She really has a knack for this stuff.
The lesson this episode? There's nothing shameful in having an STI, but there is something wrong with not being honest with your partner. Otis takes his own advice and gets honest with Ola about his wanking. She's super cool about the whole thing because of course she is. Now we'll see have to how cool they are about their parents' burgeoning relationship.
Unfortunately, Eric might want to forget about dating Adam since he's not coming back to Moordale anytime soon. It's also possible Adam's dad won't be there much longer either. Could Jean end up in the headteacher position instead? I'd love to see it. Also, I'd love to see what happens with Maeve and her new neighbour Isaac (George Robinson). And how Ola deals with learning about the sex clinic, which, now that Maeve is back, is once again open for business.
Whether or not Miss Sands (Rakhee Thakrar) really is a "lovely little female dog," what is true is that Adam is off at military school and not exactly thriving. Back in town, while he refuses to ask for help, Otis is more than willing to consult his Google-equivalent for tips on how to finger. He's very interested in "The Clock" technique.
At the same time, his mum is also looking for advice as to what she should talk about in her sex ed-focused school assembly now that the district has recruited her to update their curriculum. Female pleasure is her first suggestion being that the textbooks don't mention it at all. Maybe she can focus on "The Clock" too? What Jean learns after spending some time addressing Moordale is how hard it is to talk to teenagers about S-E-X without the LOLz. Especially when you decide to do an acapella rendition of Salt-N-Pepa.
While Eric is being stared at by the new French kid Rahim (Sami Outalbali), Maeve is now with the smart kids who all have very big aspirations for the next decade. Her new classmates like Viv (Chinenye Ezeudu), who is also Jackson's new tutor now that he's not swimming, are scary smart. Ola being in the class doesn't help things either, though Aimee (Aimee Lou Wood) can see right through Maeve's hatred for Otis' new girlfriend. Well, the feeling is mutual. What Ola is not feeling? Otis' hands on her vagina. That is until he tries his new technique, which was not working like a Swiss watch by any means. The differing opinions from Ola and Otis on how this all went is tragic.
What isn't tragic is Miss Sands' pep talk about Maeve striving for more than big windows. Cue all the tears. Whereas Viv's pep talk for Jackson could be a little less of a reality check, don't you think? However, it does force Jackson to think about a future that hasn't been pre-determined by his mum. Eric's reality is that Rahim is totally into him and knows Pablo Neruda poems by heart. "I don't know her," might be Eric's best retort yet. Honestly, why can't Eric see how into him Rahim is?
Ola is trying to impart some sex advice through carnival games since it's not easy to tell someone you don't like their pleasuring technique. Leave it to Lily to just rip that Band-Aid off. She does it again when she tells Jackson to try out for Rome & Juliet. "You're acting all the time," she tells him when he turns down the audition invitation. "And you'll probably get a sword."
Elbow man Adam has also found a few friends at military school who also have daddy issues and a sex secret they don't want anyone to know about. Him knowing leads them to do something really reprehensible. Otis is also trying to hide his own secret shame of how he "DJ'd on [Ola's] vag," according to Ruthie (Lily Newmark) who gives the best advice of the episode. Well, that is until Jean drops some knowledge on Mr. Hendricks' class about consent. It also sets up the battle between Mr. Groff and Jean who will be sticking around Moordale whether Otis likes it or not. Maeve is the new quizmaster, which is not the most shocking news of the episode. Her admission, "I don't think I'm over Otis" is. Oh, and maybe how sexy the word "babaganoush" is.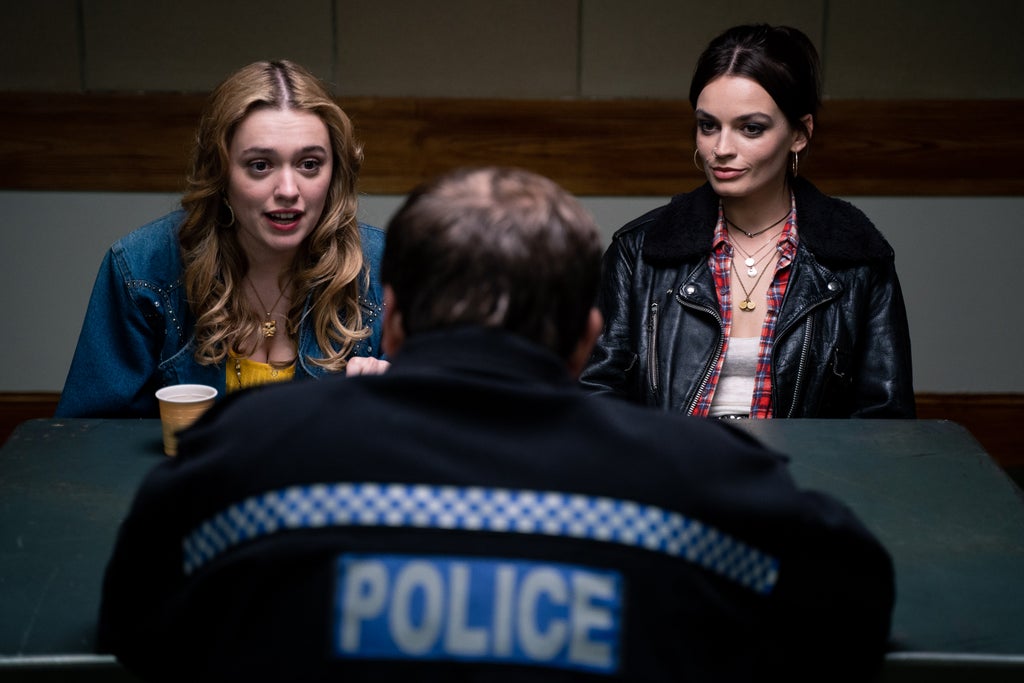 Aimee and Adam are both trying to prove themselves. For her it's baking a pink bunny cake that shows she could be a baker, and for him it's washing his dad's car to get back in the head teacher's good graces after being kicked out of military school. Unjustly, might we add. Even more unjust? Aimee getting masturbated on by a fellow bus patron. The fact that no one on the bus comes to her aid is even more unsettling, or maybe it's Aimee downplaying the whole thing by making excuses for the guy.
It's Maeve's birthday (hence Aimee's cake) and while she hates her birthday, she's determined to get the best present: Aimee reporting the man on the bus to the police. Aimee believes the whole big thing is NBD. "Cum is kind of like a penis having a sneeze," she tells Maeve. Even though he's far more understanding than most officers we've seen depicted in these situations, watching the cop question her about the incident shows why a lot of women choose not to report sexual assault or harassment.
Otis and Ola, who is "basically his sister" according to Eric, are having dinner with their parents. Jean is taking suggestions from the students about sex ed, but Otis believes she's doing something more nefarious. In reality, she's misdiagnosing these teens. Sorry, no ghost fetishes at Moordale — yet. Otis is also concerned having her on campus is bad for business. What's really bad, though, is that Otis hasn't taken Ola on a single date which makes it hard for a scarf-wearing Eric to come up with a date night idea for Rahim.
What's good is Jackson trying out for the school play directed by Lily. Mr. Hendricks referring to William Shakespeare's writing style as "Will.I.Am-bic pentameter" is equally as good. Viv and Jackson working his Romeo & Juliet audition together is nice to see, as well as Jean and Mr. Groff's wife Maureen's (Samantha Spiro) female bonding when Maureen stops by and gets to shy to ask Jean for an appointment. Jean knows what's up.
Worst way to bond? Playing Monopoly with your mum's boyfriend, a la Otis' meltdown upon losing to Jakob. A good way? Ordering vichyssoise on a date, which gives Eric an excuse to ditch the fancy restaurant he initially chose and take Rahim to a place where he feels most happy: the arcade. It's over a game of Dance Dance Revolution that the two share their first kiss. Running into Adam at the drugstore after said kiss kind of ruins the mood though. As does Maeve's mum showing up, unannounced, on her doorstep and Otis' #sorrynotsorry apology to Jakob post-Monopoly, which shows how truly angry he is about his mum finding a new man. Jakob is unphased.
Most tragic is Aimee not telling her mother what happened on the bus even though she's unable to even ride the bus after what she's been through. Though, Maeve's inability to tell Otis how she really feels, even after he gives her the perfect birthday present, is right up there, too.
Ola and Otis have the talk. While Ola feels like she's ready to go all the way, Otis doesn't seem as sure. I wish he was able to tell Ola about his reservations instead of scheduling his first sexual experience for the following night. Elsewhere in the house, Jean also seems to have some concerns about Jakob, namely his messes and his smoothie-making.
Maeve doesn't love having her mum and her sister ("half-sister") back at home. Adam also doesn't like Eric coming around to talk to him about that kiss. And Aimee is still traumatized by what happened on the bus. Jean is getting a lot of walk-ins at school to talk about sex including Maureen, who hasn't been touched by Mr. Groff in six years. It might be Otis, though, who should be popping by to talk. Otis doesn't love the idea of being deflowered by a woman he hasn't said "I love you" to yet. 
Jackson got the part and is playing "Romeo" in Lily's play, but he can't seem to perform without a little help from his new friend Viv. Jean's ex-husband Remi has come around and Jakob seems a little too willing to make him dinner. Their dynamic is giving off big Sex and The City Aiden vs. Mr. Big vibes. Maeve asks Otis to babysit her three-year-old sister so she can lead the quiz team, which is good for Moordale. Not so good for Otis, who loses her little sis during a sex clinic appointment. It does give him and Maeve a chance to reconnect though. But Maeve admitting she likes Otis is a hard moment to watch. Mostly because as much as fans might want to see them together, you have to feel bad for Ola.
After this, Otis is not in the right headspace to lose his virginity. Checking texts from Maeve during foreplay ruins the mood and leads Ola to suspect there is something going on with Maeve. After losing her Quiz Heads role and possibly Otis, Maeve believes all she has is herself, which leads her to brush off her mum, who really does seem to be trying. 
Remi is trying to get into Jean's pants, and succeeds in getting a snog, while Otis is sorting through his feelings for Maeve. Eric is also trying to figure out how to define his relationship with Adam, who shows up to wordlessly break bottles with him in the middle of the night. The two have a (sort of) heart-to-heart in the morning when they both admit they're happy he's back. Lily cheers Ola up with a comic about Ola defeating a very Maeve-esque creature and, uh, anyone else shipping Lily and Ola after the hug Ola gives her? And the increasingly great duo of Viv and Jackson perhaps deserves a special name at this point. Vackson? Jiv? TBD on that.
The best line of the episode, hands down has to be what Jean tells a student struggling to define her sexuality: "Sex doesn't make us whole, so how could you ever be broken?" Even if it does basically foreshadow the end of Otis' business now that students are getting real professional advice. Worse may be the ultimatum Ola gives Otis: Give up Maeve or lose me. Though, Eric having to choose between Adam and Rahim is a real Sophie's choice for him, too, wouldn't you say?
Ola's sex fantasies are very revealing. Especially, since the real horny stuff happens with dream Lily not Otis. Adam also seems to be on Eric's mind and in front of his house. (If Rahim needs a shoulder to cry on, though I think he'll have some quick takers.) Both Eric and Otis will have time to think about their relationship dilemmas when they get to the forest. Camping trip! Remi's final words to Jean are "trust me," which definitely means something is going to go down on this getaway.
Maeve is heading to AA with her mum to see how well she's doing, but mostly for the cookie spread. Viv is helping Jackson with his Shakespeare while he is trying to help her get Dex (Lino Facioli) to notice her. This includes them heading to Dex's job and pretending they are friends who "have casual sex sometimes." One thing that can't go unnoticed is how different the rule-following Otis is from his dad, who is trying to be a wild mountain man.
Erin wants to apologize to Maeve, but all Maeve hears are excuses. What her neighbour Isaac sees in Maeve is someone who doesn't have much fun so he invites her to his swing dancing class. Honestly, it's hard not to have fun watching a bunch of sexagenarians swing dance. Also, let's give it up for Maureen taking matters into her own hands, quite literally, and attending Jean's vagina classes. This one gets a little chaotic though due to Jean stopping mid-class to yell at Jakob for making noise, then telling him she kissed Remi. None of this, however, stops Maureen from buying a vibrator and telling Mr. Groff she wants a divorce.
Otis' camping trip is also chaos central thanks to a drunken never-would-I-ever game. Weirder is Ola turning to Adam for advice on her sex dreams. Let's just say his suggestion to turn to Google for help is not the best. It does get her to a quiz that determines she might be pansexual though and his very literal definition of the term — "what, like having sex with pots and pans?" — is *chef's kiss.* 
Poor Aimee is still walking everywhere and isn't able to enjoy sex with her boyfriend Steve, who still doesn't know about what happened on the bus. Watching Jackson really see Viv after their Dex-capade is a short but sweet moment that butts up against the hell Otis is experiencing in the woods. To be fair, his dad might be feeling much worse after his unsuccessful battle with the tent. The night ends with all three staying in a local hotel, where Remi is already working his magic on the woman who checks them in. This episode is all about the kids realizing their parents are human. It's rough watching Otis realize his dad is just a liar.
What Maeve realizes after her neighbour questioned whether an addict can be anything more than an addict, is that her mum is really trying. Maeve asking her mum to paint her nails is a tearjerker.
I'm still not sure what to call the moment when Eric reveals his feelings for Adam to Otis, who — like most of us — doesn't quite get why he wants to go out with his longtime bully. I'd define Ola's dream kiss with Lily, now that she has an understanding of her feelings, as orgasmic free jazz. While Adam's experiment to see whether he prefers men or women — masturbating while looking at a poster with both a sexy man and a sexy woman on it — doesn't seem all that scientific. 
Luckily, Otis's trip does confirm two things for him: His relationship with his dad is complicated and he has to stop seeing Maeve. The look on Maeve's face when she reads that text is utterly heartbreaking. So is Otis' when Ola breaks up with him. The trip also put things into perspective for Eric, who agrees to be Rahim's boyfriend and ignore Adam's beck and call. And Ola finally kisses Lily, who is rather flustered by the big romantic gesture.
"Code Red." That's the text Anwar (Chaneil Kular) sends Olivia after his boyfriend Nick (Tom Atkinson) suggests they have anal sex. Her pretending to be mugged lets him run out of there. Honestly, everyone seems to be running from themselves in this episode. Jean ran from monogamy wakes up alone missing Jakob. Jackson's cast has come off and he's trying to push off training again. Otis is mad that Ola called him uptight so he decides to be someone else for the night. 
"I'm totally chill," he tells Eric before deciding to have a "little gathering" at his house where he'll "cook a roast chicken." This is Otis-speak for "party." The problem is, Otis doesn't have friends, he has clients, which as Eric notes isn't the same thing. Luckily, Rahim seems to be the key to getting people to come to Otis' super spontaneous small gathering on a Thursday, which is the new Friday, as everybody knows. 
Ola's kiss has made things weird between her and Lily, but Jackson's plan to get Viv and Dex together seems to be working. Viv scheduling in 10 minutes to get herself off is a mood. Her efficiency really knows no bounds. Otis blames Maeve for his breakup, which Eric thinks is a little far-fetched. (We agree.) Eric's suggestion to invite Maeve to this party feels like a bad idea, though, right? Can these two really go back to normal after that text?
Anwar is looking for advice on how to douche before anal sex. "I cannot, under any circumstances, shit myself," he tells Otis, who is going to do some research. If Otis isn't going to talk to his mum, Rahim might be the next best resource. 
When it comes to the Quiz Heads, Maeve is their only hope after her replacement endures fish-induced food poisoning. Ola is looking to Jean for advice, which leads Otis to steal her notebook. Total violation of patient-client privilege. 
Jackson is struggling to tell his mum that he doesn't want to swim anymore, while Eric is struggling to be out with his mum, who honestly seems excited to meet Rahim if he would just let her already. Maeve's mum has been crying, which should be concerning, and Adam's mum is trying to figure out what being a divorcée means by dancing the night away with Jean. 
We definitely want to party with Jean and Maureen, especially since Otis' get together is a total shitshow. Maeve brought Isaac to Otis' house, which is so not wheelchair accessible, giving him a chance to throw off some witty retorts. His assessment that Otis looks a lot like him "but less interesting" is very astute. Add them to the list of Sex Ed characters we ship.
Otis might have wanted Ola to see how cool he is, but coming to the party gives her a chance to question why Lily's avoiding her. "I don't think we can be friends anymore," Lily tells her. "Too confusing." 
Jackson is panicking over the thought of getting back in the pool, but this time Viv catches him before he does something drastic. It's too bad Jackson won't take her help. It's also too bad that Otis can't see himself dancing because he would probably stop. 
Aimee is struggling with PTSD after what happened on the bus, breaking up with a very confused Steve because of it. 
Adam shows up to Otis' party to get his crush back (deja vu?), but Team Rahim right here. Rahim's advice to Anwar about losing his virginity is rather masterful: "If you're not ready to talk about this with your boyfriend, you're not ready to have his cock in your ass." Get that stitched on a pillow.
Eric finally having a serious talk with Adam about how his bullying affected him is so powerful. "I've had to work real hard to love myself and I won't go back to hiding things about me again," Eric tells a confused Adam, who thinks he's bisexual. Shame, as Jean said earlier this season, is what keeps people from being comfortable with their sexuality. That couldn't be more true for Adam, who finds an angry partner in crime in Ola. Who would have guessed that?
The definition of uncomfortable may also be Otis breaking down this season's love triangle, admitting he never liked Ola as much as Maeve who is "the most selfish person he's ever met." Maeve's right, Otis is an asshole. Isaac finally getting real about what happened to him only brings him closer to Maeve. 
Viv's decision to tell Jackson's parents about his self-harming won't bring him any closer to her, but it's the right thing to do. 
There's nothing right about the state of Jean's house when she gets home to find a naked Otis in bed with someone, or Mr. Groff exacting revenge on Jean when Maureen refuses to give him another chance.
The penultimate episode picks up with a young Maeve being harassed by the boys in the trailer park. Even then, Maeve was a feminist, scolding a woman for "perpetuating old-fashioned patriarchal ideology" about "women asking for it" when they wear clothing deemed sexy by society. A minute or so later, the episode cuts to what we saw last episode: Otis in bed with who we now know is Ruby (Mimi Keene). The two apparently had sex, which Otis doesn't remember. They think they used a condom (Ruby is "99 per cent certain") but they can't find it, which freaks Otis out. 
Isaac is suspicious of Maeve's mum, who doesn't seem to be going to work anymore. That would explain her red eyes from last episode, which Eric summarizes so beautifully when he runs into a very hungover Otis: "You got very drunk, offended your unrequited love and ex-girlfriend, puked on yourself and danced really badly in front of most people at this school." Maybe Eric should do these recaps.
What Eric didn't know was Otis slept with Ruby. "Sex has consequences," Otis reminds Eric, who is very excited to know his friend lost his V-card. The question of what the consequences will be lingers, but what is clear is Otis still has a lot of apologizing to do, Viv is still in the doghouse with Jackson, and Aimee is still struggling to get her assaulter out of her head. 
Look around the school and it's clear that Mr. Groff was busy taping up his Xeroxed pages of Jean's notebook, which includes the students' sex queries along with her private diagnoses. Otis uses pretend haemorrhoids to talk to Ruby, who is now not as sure about using a condom. Eric isn't so sure he wants Rahim to go to church with him, but wouldn't inviting him be a step towards making him more a part of his life? 
Miss Sands is on a mission to figure out who slut-shamed her and it's all very
Breakfast Club.
Maeve, Viv, Ola, Lily, Aimee, and Olivia are all forced to stay after school to figure out whodunit. I suspect the lipstick will be a very important clue and this detention session will be very revealing for all these girls. That is the theme of this episode: Unlikely characters learning to get along, like Otis and Ruby, who are on a mission for the morning after pill. Ruby's anger over being asked whether she's taken Plan B before shows the unnecessary
stigma that comes with using the pill
, which is legal and available when women need it. It doesn't make you a slut to use it, full stop. Ruby revealing that her dad was diagnosed with MS last year, lets us see this side character a little more clearly. 
Miss Sands is making the girls in detention work on a presentation about female solidarity. Ah, yes a teachable moment. Clearly, Mr. Groff has learned nothing this season since his course of action after his photocopying is to have parents come in and hear what they told Jean in private. As she explains, she isn't giving sex advice, she's answering sex questions, which sounds like semantics, but genuinely that is what she does. She isn't urging anyone to have sex, but understands she can't keep them from having it either. Knowledge is power in this case, but Jean can't share hers now that Mr. Groff has fired her. Unfortunately for Otis, this is the moment in which she is imbued with the knowledge of his sex clinic.
Eric does take Rahim to church, and the moment also shows just how separate his family and personal life are. Still, I want to see Rahim help him bridge the gap. Even if it means they can't be together. 
The chasm between Jackson and his mum narrows as they talk about swimming being the one thing she felt bonded them after their flat tire on the way to therapy. Adam is working on his small talk to help him relate better to his peers, though, he clearly has a way with dogs. Otis has a way of making people feel more comfortable even during sex. Ruby lets Otis know he wasn't good or bad in bed, but he did check in on her well-being. Sounds like Otis. 
In the library, Aimee revealing she can't get on the bus is what ultimately brings the girls together. The women all have felt unsafe by men treating them like public property. They weren't the culprits, but they were able to realize they all have "unsolicited dicks" in common, if nothing else. Oh, and a profound enjoyment of breaking shit. 
Eric telling Rahim he loves him is sweet, as is Jean turning to Jakob for Otis advice. But he offers her something else, the sad confirmation that she may not be ready for a real relationship. Adam might not be ready for responsibility either after failing to lock up, Rahim might not be right for Eric since his mum doesn't think he makes him "sparkle." Ola's vanilla scent is enough for Lily to admit she has feelings for her. Isaac tells Maeve her mum isn't going to work anymore, which forces her to set boundaries. And if you're not crying after watching Aimee finally get on the bus with help from her detention girl squad, you're dead inside.
This season's finale is upon us and LOla is officially a thing, but Lily is still feeling uncomfortable with penetration. Unlike before when she first learned about her vaginismus, she's talking openly with Ola about what's going on and they realize side-by-side masturbation is a workaround for now. Love to see it. 
Mr. Groff sleeping on his office floor? Not so much. Otis and Jean's therapy face-off, though, is quite a sight. It's hard not to side with Jean, though, since his advice isn't exactly professional, even if it was mostly helpful. Jean's real concern with what Otis did is much deeper; she's worried she didn't raise a son who takes responsibility for his actions since his first course of action was to lie to her. It doesn't hurt that she saw a bit of Remi in him when he did. 
Erin seems a little all over the place; she's not coming to see Maeve and the Quiz Heads because of a job interview, and she is putting pressure on Maeve to be the head of the household. Maeve goes to Isaac looking for help to figure out what's going on.
Then,
it's opening night of Romeo and Juliet: The Musical
and it's all coming together chaotically. Leave it to Lily to include octopus arms in her retelling. Also leave it to Ola to forgive Otis and give him a little advice: "You're always trying so hard to be a good guy that you end up not being a good guy," she says. "Like you're afraid you're going to turn into your dad or something." That's some real talk. So is Adam and his dad having a real, but very short chat about Maureen, Madam, and him coming back to school. The realest moment is Eric laughing with Adam over the "forest full of dicks" on the
Romeo and Juliet
poster. It's clear Rahim knows what's going on here.
Elsewhere, Jean thinks she's perimenopausal, but that pain she feels in her chest may be a literal broken heart. The pain Otis feels is connected to his dad, who is selling a book called Is Masculinity In Crisis? Remi is definitely full of shit, which Otis is just realizing. But what he really wants to know is why his dad left him. Otis also wants to know how he can keep from becoming an asshole. "Try to stay honest," his dad advises him, "once you start lying it's very hard to stop." He also tells Otis to hold on to the people who get you, flaws and all, which is what makes his phone call to Maeve all the more meaningful. He lets her know he's proud of her, which might be what Maeve needs to her right about now. 
What Isaac and his brother now know is that Erin is hiding drugs in the trailer. Maeve having to call the police to let them know her sister is in danger is heartbreaking after all the progress it appeared Erin had made. Not to mention the progress Maeve made in learning to trust her mum again. 
Adam is looking to regain the trust of his old boss and Ola in her little suit is there to help. While she doesn't get him his job back, she does show him that he is easier to like than he thinks. That hug is everything. 
Viv's
Braveheart
pep talk is what Maeve needs after seeing her mum at the quiz finals. Jean might need one of those, too, after finding out she is perimenopausal
and
pregnant with Jakob's baby
. Steve telling Aimee he misses talking to her is a sweet moment, while Viv finally telling off the Rubik's Cube-obsessed Dex is cathartic. Erin pleading with social services is hard to watch because you know Maeve was doing what she felt was right and feels horrible for it. It also means she's once again alone. Finally, we get a real apology from Otis to Jakob, who lets him know he's a good man. And Adam realizes that he must fight for what he loves, something his dad never did for his mum. 
In the end, Lily's take on Shakespeare is so horny and it's hard to look away. Especially when a frightened Jackson enters for his big scene only to get help from Viv. Or is it when the penis hands enter? Actually, you know what, it's Adam telling Eric he wants to hold his hand. Poor Rahim, who knew Adam making Eric laugh was a problem, but that doesn't make it any easier.
While the Groffs keep ruining Lily's play, Mr. Groff's accusation that Jean has corrupted the kids leads Otis to fess up to the clinic. "My mum is an excellent therapist," he tells the crowd, but more importantly she's an amazing parent. Mr. Groff's outburst results in him being asked to take some time off. Adam's very public display leads Eric to introduce him to his mum, who looks so happy to be part of his life. But Rahim's warning will stay with him. Viv and Jackson are friends again, and Aimee is ready for a hug from her boyfriend, which is progress.
Maeve needs one too, or at the very least a friend who understands where she comes from. Isaac is that person now, after everything that's happened with Otis. Finally, we get to hear the full voicemail Otis left for Maeve. "It's always been you," he says. "I love you, Maeve." Too bad
Maeve won't hear it now that Isaac deleted it
. Wow, Isaac, just
wow
.