Here at R29 HQ, we like our jams in all forms (and we're not talking about marmalade, here). Whether it's streaming through our headphones via Spotify, turned up at home from our hand-me-down record players, or blasting through YouTube as we dance around our bedrooms while getting ready in the morning, we get our songs on in every way possible. Being the fashion addicts we are, of course, this extends into our wardrobes as well. In honor of this staff-favorite pastime (and next Sunday's Grammys!), we asked eight special music aficionados to share their absolute favorite videos with you. We're talking everything from Aaliyah to Britney to, yes, even Paul Simon. Get excited.
We selected the perfect gear — crop tops, sneakers, novelty tees, and more — to accompany each clip as you relive MIKA's "We Are Golden," Robyn's "Call Your Girlfriend," and TLC's "Waterfalls." Click through to shop and throw back, but fair warning: Your Wednesday afternoon may be shot now. We sense a few watch and repeats here.
Ali Hoffman, Los Angeles editor
"Waterfalls" by TLC
"Where do I even begin? When the video came out in '95, I was 8, and for me, watching T-Boz, Left Eye, and Chilli dance in crop tops, palazzo pants, and massive hoop earrings was everything and more. Now, add the fact that they're getting down miraculously on top of water (thanks to the video's expensive CGI effort, which was very advanced at the time), and my mind pretty much exploded. Then, a few years later, I re-watched the video and realized it had a much deeper meaning, as it illustrated two tragic stories — one of a drug-dealing teen and another of a man contracting HIV — that I somehow glazed over as a child. But, in addition to its poignant message, what I'll remember best, no matter what age I am, is the segment with the weird, Alex Mack-like, oil-slicked avatar versions of the trio, shown dancing underneath a waterfall. Does it get better than that?"
Cargo
Liquid Eye Liner, $20, available at
Beauty.com
;
River Island
Beige Oversized Check Shirt, $50, available at
River Island
;
Peter Pilotto
Freja Printed Crepe Trousers, $558, available at
MyTheresa
;
rag & bone
Daytona Top, $220, available at
rag & bone
;
Fallon
Oversize Hoop Earrings, $100, available at
Barneys New York
;
Dior
Diorshow Mono Long-Wear Professional Mirror-Shine Eyeshadow, $30, available at
Lord & Taylor
.
Bobby Schuessler, fashion writer
"Oops!… I Did It Again" by Britney Spears
"So, this B. Spears classic basically defined my youth. And, yes, I dreamed (and still do) that one day I'll be able to wear a skintight, red jumpsuit, blast off into space, and have a handsome astronaut hand me an iceberg-sized ring. Seriously. Does it get more perfect? Even though my girl probably can't move the way she did in this video (don't worry, though, I'm still going to Vegas), this video will go down in my book as my all-time favorite."
The Evolution Store
Pyrite, $79, available at
The Evolution Store
;
Vionnet
Draped-Back Silk Jumpsuit, $2,100, available at
Net-A-Porter
;
Topshop
V Neck Cutaway Crop Top, $72, available at
Topshop
;
Eva Fehren
18K Blackened White Gold Sapphire And Diamond Pave Ring, $5,225, available at
Moda Operandi
;
Butter London
Lippy Sheer Gloss Dandy Bubbles, $20, available at
Butter London
;
Nike
Son Of Force Mid Sneakers, $70, available at
Nordstrom
.
Willow Lindley, associate fashion editor
"Call Your Girlfriend" by Robyn
"I love this video because, in my dreams, I dance like this when I'm alone in my apartment."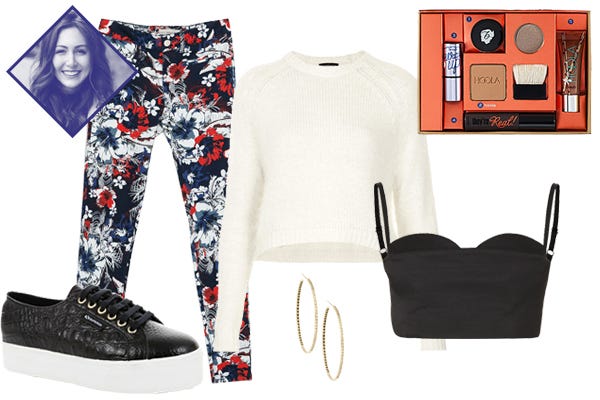 Zara
5 Pocket Printed Trousers, $49.90, available at
Zara
;
Superga x The Blonde Salad
2790 Coccofglw, $146.29, available at
Superga
;
Topshop
Knitted Fluffy Crop Jumper, $60, available at
Topshop
;
Lizzie Mandler
Othello Hoops, $3,890, available at
Lizzie Mandler
;
Acne Studios
Rue Li Mix Bustier Top, $381, available at
MyTheresa
;
Benefit Cosmetics
The Bronze of Champions, $32, available at
Sephora
.
Spencer Mandell, producer
"Institutionalized" by Suicidal Tendencies
"This is the first video of music and a band that mattered to me that I ever saw on MTV. It was a big deal for a young punker."
K.S. Homestead
Bandana, $26, available at
Hickoree's
;
Gitman Bros.
Flannel Shirt, $143, available at
Gitman Bros.
;
Unis
Gio Vintage Khakis, $198, available at
Unis
;
Vision
Gator Complete Skateboard, $89.99, available at
CCS
;
Pin Mart
Smiley Face Pin, $3.95, available at
Pin Mart
.
Marissa Rosenblum, shopping market director
"You Can Call Me Al" by Paul Simon
"I used to come home from school, turn on VH1, and wait for 'You Can Call Me Al' to come on. I was completely captivated by the dancing buddy duo, Paul Simon and Chevy Chase (who I then assumed to be Art Garfunkel). There's a lot of musical importance to Graceland, much of which you can hear in this song: the introduction of South African-style music, the bass run played forward and then backward, the whistle flute solo. And, I was aware of none of this at the time. All I knew was these two middle-aged guys had style."
Helmut Lang
Ruched-Sleeve Slub-Woven Blazer, $460, available at
Net-A-Porter
;
Hope
News Trousers, $190, available at
Steven Alan
;
Reebok
Classic Nylon Sneakers, $54.99, available at
Reebok
;
Falling Whistles
Vintage Brass, $58, available at
Falling Whistles
;
Torrans
MFG Bellaire Retro Metal Patio Chair, $79.99, available at
Retro Store
.
Hayden Manders, editorial assistant
"We Are Golden" by MIKA
"I breathed a huge sigh of relief when this video came out. Someone had finally nailed the unique joy of the escape that comes from performing for yourself and transforming into different characters alone in your bedroom."
Bolshie
Lace Up Boots, $320, available at
Solestruck
;
Sprayground
The Happy Dayz Hologram Backpack, $70.46, available at
Karmaloop
;
Pyrex
Vision White Champion Gym Shorts, $100, available at
Pyrex
;
H0les
Pixel Sunglasses, $90, available at
H0les
;
Wacky Wacko
Boys All Over Me T-Shirt, $40, available at
Wacky Wacko
.
Annie Georgia Greenberg, style editor
"Are You That Somebody?" by Aaliyah
"I almost feel like this needs no explanation, but here goes. This Aaliyah classic has all the makings of a sensational music video: Timbaland, a soundtrack of (crying?) babies, matching outfits, mini pigtails, a mysterious silver hallway, and a bird of prey. Not to mention amazing synchronized dance moves (sometimes in shadow, sometimes in plain sight) including, but not limited to, floor rolls and booty pops. It's also shot on a set that transcends space and time — which is a signature touchstone of all good music videos (Missy Elliott's 'Work It' and Britney's 'I'm a Slave 4 You,' to name a few). This video also marked the first time I really took note of an outfit that was masculine but sexy at the same time. I would definitely rock a mesh tank top, a choker, and JNCOs in the present day, too. What can I say? Sometimes I'm goody goody, right now I'm naughty naughty."
Nike
Air Max LTD, $110, available at
KicksUsa
;
Preen
Ted Cropped Stretch-Crepe Top, $490, available at
Net-A-Porter
;
Joe Boxer
Metallic Boxers, $9.99, available at
MyGofer
;
Vince Camuto
Aztec Chocker Necklace, $39.99, available at
Vince Camuto
;
Dickies
Relaxed Fit Carpenter Jeans, $27.99, available at
Dickies
.
Nathan Reese, contributing editor
"Glósóli" by Sigur Rós
"I usually say that Björk's Chris Cunningham-directed 'All Is Full of Love' is my favorite music video — that or HEALTH's Eric Wareheim-helmed 'We Are Water.' But, since the first clip is all about naked androids and the second is a nightmarish, ultra-violent horror movie, I went with a more appropriate choice. Sigur Rós' video for 'Glósóli,' directed by Arni & Kinski, embodies the world-expanding sound that the band has perfected. Before M83 showed superpowered kids flying through space, Sigur Rós had a similar idea presented in much simpler terms. Basically, it's some of the most breathtaking six minutes of footage you can experience. Gets me every time."
Play By Comme des Garçons
Chuck Taylor High Tops, $110, available at
Barneys New York
;
Mason
Slim Fit Chinos, $58.50, available at
East Dane
;
Filson
Guide To Work Jacket, $440, available at
Steven Alan
;
L.L. Bean
Heritage Sweater, $139, available at
L.L Bean
;
Polar
Rainier Vibes Beanie, $25, available at
Polar
.