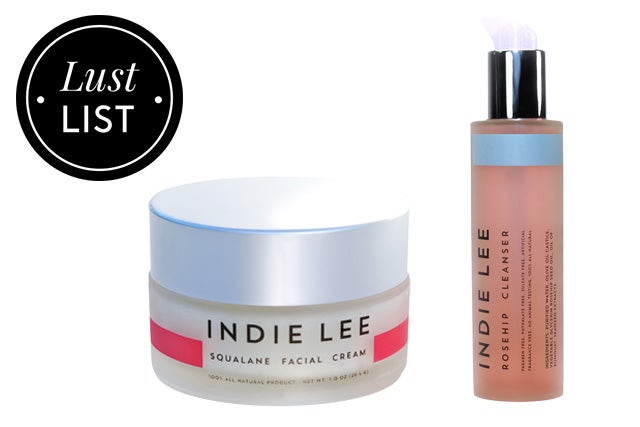 Indie Lee's self-titled beauty brand is one of those little companies with a big heart. After surviving a life-threatening brain tumor likely caused by environmental toxins, Lee decided to devote herself to making all-natural skin care products that are both body-safe and earth-safe. But, make no mistake: This isn't some free-spirited kitchen experiment with flowers and mud from someone's yard. Indie Lee's products are the real deal, and I'm kind of obsessed with them. Her blemish treatments are just about the only OTC products that actually kick my zits to the curb, and her body oils make me feel like the most pampered poodle in town. So, when I heard she was coming out with a couple of new products for fall, I was all over it. Thoroughly.
The two new products, to be released in October, are a cleanser and a moisturizer. Pretty basic, right? Wrong. There is nothing basic about the Rosehip Cleanser nor the Squalane Facial Cream, and the evidence is on my skin, which is somehow looking clear and even despite a stressful week of too little sleep, regretful food choices, and changing weather.
The Rosehip Cleanser, made with rosehip oil, doesn't smell like a rose-scented product. It smells like a naturally occurring rose bush growing up out of the real, soft earth, with sunlight and dew. It's extremely gentle, yet still effective — it cleanses and soothes at the same time. Usually my skin turns pink after I wash it, just because it's so sensitive that scrubbing it (even gently) irritates it to some degree — but after cleansing with this, there's no pink to be seen.
Following the cleanser with the facial cream is probably the nicest thing I've ever done for my face. It's made with squalane, which is extracted from olive plants, and apparently has anti-cancer, antioxidant, and detoxifying properties — not to mention it has a fast absorption rate, so it doesn't leave you greasy even though it's super thick and goes on kind of heavily. It disappears into my face within a few minutes, leaving my skin soft, even, and, dare I say it, glowing.
Indie Lee Rosehip Cleanser, $32, available in October at Indie Lee; Indie Lee Squalane Facial Cream, $70, available in October at Indie Lee.

Like this post? There's more. Get tons of beauty tips, tutorials, and news on the Refinery29 Beauty Facebook page. Like us on Facebook — we'll see you there!