Illustrated by Anna Sudit.
We'll admit that we're obsessed with buying what's new, what's exciting, and what will take our personal style to another level. But, some of the most clever fashion editors we know don't just know how to shop; they know how to sell. These insiders are selling often, selling smart, and making their once-loved items accessible to the masses. Of course, you have to know where to look — but more on that later.
To track down the best advice on how to resell your clothes, make a profit, score a trade, and streamline your wardrobe, we went right to the source. Make that 12 sources. We surveyed a dozen fashion editors — two assistants, two associates, five senior-level, and three at director or higher levels — from some of our favorite publications to fill us in on their consigning habits. In exchange of their best kept secrets, we gave them total anonymity. Ahead, we gathered together their top insights to help you clean out your closet and make some dough. And, because we love to shop, there are also plenty of tips on where you can score the freshly merchandised goods straight from the stylish sets' collections.
Illustrated by Anna Sudit.
It's true that one woman's trash can be another's treasure. But, if you want to be successful — and make money — when purging your wardrobe, an editor who cleans her closet four times a year says, "Pull your best stuff out first." Consider this rule of thumb: "If there's a Real Housewife bragging about it, it's easy to sell." Premium designer labels (in good condition) will often lead to a sale. That means brands even your non-fashion-obsessed friends know by name: Louboutin, Gucci, Alexander Wang, Saint Laurent, Chanel, and rag & bone, for example.
While several of our tipsters agreed that luxe is better, others swore that more mainstream or "super-girly brands like Kate Spade" are also usually hits. Should you be low on designer labels to spare, there's one piece that usually always brings luck: denim. According to our sources, jeans are the one item consignment stores nearly always accept. Keep yours in decent condition, and you may have a sale on your hands.
On the flip side, don't stock your sell pile with a majority of fast-fashion labels. Items from Zara, H&M, and J.Crew may be in great condition, but since they're so common, you'll likely run into difficulty when it's time to resell. Other less-successful pieces include foreign brands, corporate/professional-wear, and niche or indie labels. If you're having trouble selling these items, seek out stores and sites that cater to customers with taste similar to your own.
Illustrated by Anna Sudit.
The seasonal rotation of fashion collections is not exactly logical. We shop spring clothing in winter and start talking heavy outerwear when it's still 90 degrees outside. But, when selling the contents of your closet, aim to strike while the demand is strong. Fight the urge to toss away staples, like thick coats or floral dresses, at the end of their season. "Sell seasonal items when it makes sense," advises one senior-level editor. One director says, "If you go midway [through] or [at the] end of [the] season, you may have missed the window." However, sell with your customer in mind. If you're sick of stuffing your closet with wool trousers, it's possible potential buyers are, too.
As for the best time of the week to sell, avoid the store's busiest days (generally weekends) if you can. If you're making your first trip to a consignment shop or about to haul in a huge bundle, it's important not to rush the process. Take time to present each item, allow it to be inspected, and work toward cutting the best deal possible. If you do, you'll yield "a higher check and a lighter trip home," an expert says. And, remember: If one shop says no, that doesn't mean another won't say yes.
Illustrated by Anna Sudit.
Full disclosure: All of the editors we surveyed for this story are located in New York City or Los Angeles, and the majority of their resold items will be found in local shops. But, that's just scratching the surface of resale possibilities.
"I send my better clothes off to
The Closet
on Newbury Street [in Boston]," one editor confesses. "This may seem odd, because I am from and am currently live in NYC, but I was introduced to the store and the owner, Kevin, by a fellow fashion editor years ago and have been sending boxes of clothes there several times a year ever since. They are trustworthy, sell things fast, and it takes minimal effort on my part. They also sell a mix of contemporary and designer, so you don't have to have only high-end to work with them."
Online retailers are also major recipients of fashion editors' items, especially e-shops that make the resell process as easy as possible. Several of our sources prefer to sell to
The RealReal
. "I make an appointment, and they come to me," one editor says. Another favorite of the bunch is
Bib & Tuck
. "They only take 15% and give you store credits to buy other sellers' stuff," another fan says, citing the site's prepaid labels as one of its major attractions. While eBay is still the mother of all resale sites, having to photograph and post their own items can be a deterrent for our sources. "Someone once told me they gave their intern commission and had them sell items on eBay for them," one confessional read. "An interesting thought, but perhaps not the most appropriate."
For those who prefer the in-person experience and are in the tri-state area, popular locations are
Buffalo Exchange
("It's a total crap-shoot how much you'll make depending on the associate you get"),
Tokio 7
("They are fair in their pricing; no need to make an appointment"),
Crossroads Trading
("They come to your house to pick up the clothes, and then mail you checks"),
Beacon's Closet
("willing to get a little more avant-garde/indie"), and
INA
, which mostly stocks high-end goods. Southern California faves include
The Way We Wore
and
Shareen Vintage
.
Although, should you have good luck, there's always hope of running into this editor we surveyed: "I never sell, despite many resolutions to begin doing so. I tend to reach a point of desperation and just give clothes away, either to friends or in a free box/bag outside my building — often along with a Craigslist curb alert."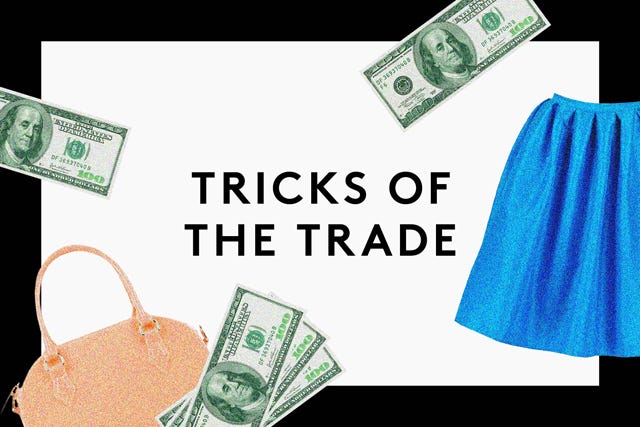 Illustrated by Anna Sudit.
Now that you have an idea of what, when, and where to start selling, you can climb your way to fashion-editor levels of reselling success. But, understand that even the pros encounter challenges. A few of our experts divulged that they're major fashion hoarders. In addition, most of our participants admitted to having the most trouble selling an item they spent a lot of money on and yet have barely worn. "It's like I'm directly acknowledging my poor purchases," one said. "You feel defeated in a way," another echoed. Making more thoughtful purchases when shopping new items can prevent you from running into trouble when it's time to resell.
And, much like yourself, your fellow fashion editors are not immune to the rush of a secondhand score. Nearly all told us that when selling clothes, they prefer to take the cash as opposed to store credit. They all also 'fessed up to loving to shop the very stores where they resell their goods. Planning your drop-offs to coincide with a shopping spree can be a good way to kill two birds with one stone.
Once you've mastered your local NYC or SoCal spots, venture to more distant lands for some of the best thrifted buys. One director swears by Salvation Army locations in the South: "I've found gold in south Florida and Georgia. I once bought a vintage Courrèges carryall for $2."
Of course, as we've seen, traveling far from home isn't necessary for scoring major finds. One editor swears by New York's 13th Street Beacon's Closet — not the the Williamsburg location — and the Buffalo Exchange St. Marks location where "goth-chic" fashion editors are known to leave behind their Helmut Lang, Theory, Givenchy, and Rick Owens. We'll take it from here, ladies.