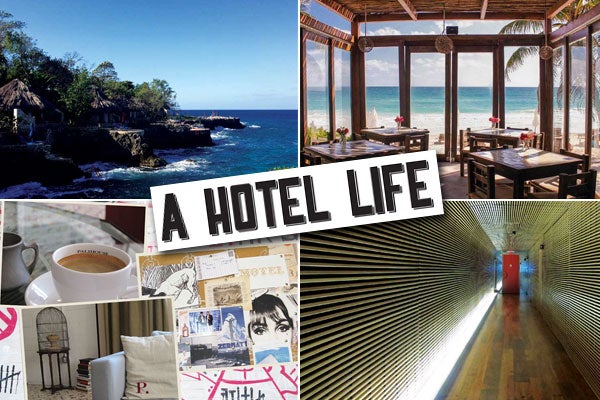 Moment of truth: We spend more time at work than we probably should browsing travel sites, searching for our next big trip and googling cheap flights. Yes, we're voyaging voyeurs, and now HR has another reason to be pissed about our procrastination (so, let's keep this between us, shall we?). Say
bonjour
,
aloha
, and
konnichiwa
to
AHotelLife.com
,
a new jet-setter's resource
from Ben Pundole, a hospitality vet who has more than a decade of working with Ian Schrager under his belt and opened that little Montauk joint, Ruschmeyer's, in 2010. (Just try and get a room, we dare you.)
The site really is addictive, with profiles of some of the world's hottest hotels and destinations curated by a slew of tastemakers, with all the insider scoop, too, including where to dine, shop, and, of course, party. Think of this site as that too-cool-for-school best friend you always go to for style advice — AHotelLife features testimonials and snaps from the likes of interior designer Athena Calderone, The Last Magazine's Tenzin Wild, and R29-fave DJ, Chelsea Leyland. Look for the "important bits" section of the guides, where the chic curators let you in on everything from the best way to book a stay to a location-perfect playlist. Indeed, the .com is "dedicated to helping the reader discover the mystery, mischief and magic," behind these unique spots, says Pundole. Hate to do this to you dudes, but the rest of your day is pretty much shot — at least when it comes to work.

Photo: Courtesy of AHotelLife.com.