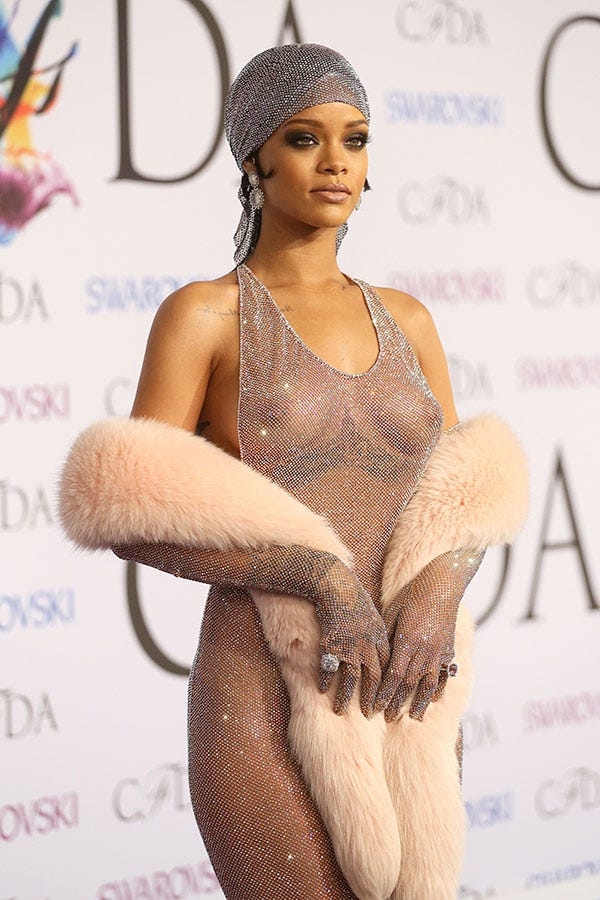 Photo: REX USA/Erik Pendzich.
Rihanna is a style icon. No, really: Anna Wintour awarded the singer and (Wintour's favorite "tweeting buddy") the CFDA Fashion Icon Award Monday night. Naturally, Rihanna accepted, nips out.
In the post-@badgalriri world, nipples and breasts have swiftly become mainstays in popular discussion. Case in point: Bruce Willis' daughter
Scout
is romping through Manhattan sans shirt in protest of Instagram's topless-women policy. Thought pieces surrounding the image-sharing platform's strict rule have cropped up left and right. Meanwhile, Rihanna remains indifferent and chooses to stand in solidarity with nipple-revealers everywhere.
She has no need to free her nips, since they've been free all along. Instead, she serves as a beacon of empowerment — a diamond in the rough ("the rough" being dress codes and nudity policies).
Photo: REX USA.
Style icons "tell us captivating stories about ourselves and the world we live in, through the boldness and beauty of their clothes," Wintour said. Rihanna, Wintour continued, sparks "a lot of conversation about elegance and empowerment." Her sheer, Swarovski-emblazoned, '20s-inspired Adam Selman dress is the embodiment of that. An icon, that Bad Gal is — a true vision in nude, and a "tweeting buddy" to us all.