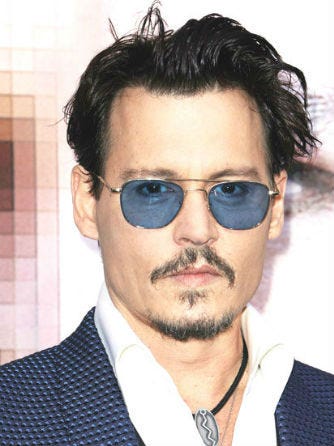 Photo: Matt Baron/BEImages.
The slow decline of Johnny Depp's career continued as his new film
Transcendence
was
mauled by critics
and completely misfired at the box office, earning a paltry $12.4 million over the weekend. It was the latest in a series of staggering flops for one of the world's biggest movie stars — a streak of futility that began with
The Rum Diary
and
Dark Shadows
, and culminated with last summer's head-scratcher
The Lone Ranger
, a disaster of a movie that reportedly lost Disney over $100 million.
In the wake of Depp's latest flop, Hollywood must now come to terms with yet another movie star whose once Teflon career
might be in jeopardy
. Like Tom Cruise and Will Smith before him, studios can no longer rely on a Depp vehicle to attract audiences on name recognition alone. The 50-year-old actor is only three years removed from the fourth installment of the lucrative
Pirates of the Caribbean
franchise, which generated a combined total of $1.2 billion at the box office, making Depp one of the wealthiest actors of our generation in the process.
Most of the commentary surrounding Depp harps on the actor's inflated bank account as an excuse for his recent cinematic bombs. "Depp has what few Hollywood actors don't have: 'f*ck you money,'"
writes Tricia Romano
of
The Daily Beast
. "If he never makes another hit, he can still take that to the bank." Unfortunately, that's where the problem lies. If Depp never has to worry about money again — and his own personal Bahamian island suggests that he doesn't — then why does he continue to make schlocky studio fare? While
Transcendence
may seem like a heady sci-fi mind-bender on the outside, at its heart it's a generic blow-em-up action flick — the kind of film Depp would have been loathe to make a decade ago.
Photo: Courtesy of Warner Bros.
Depp began his career as a reluctant heartthrob thanks to the success of his '80s teen cop show, 21 Jump Street. The actor spoke openly about how uncomfortable his status as a sex symbol made him feel, and as he embarked on his film career, Depp was intent on choosing roles that shattered our perception of him as a pretty boy. He gravitated to madcap roles that saw him play the oddball outsider in films like Edward Scissorhands, Benny & Joon, What's Eating Gilbert Grape, and Fear and Loathing in Las Vegas. When he wasn't working with his cinematic soul mate Tim Burton, Depp aligned himself with art house directors like Jim Jarmusch in Dead Man, Roman Polanski in The Ninth Gate, and Julian Schnabel in Before Night Falls. He had the youthful spirit of a renegade artist unbeholden to Hollywood's conventions of what constitutes a leading man.
Even the more accessible titles in Depp's filmography — like Donnie Brasco, Blow, From Hell, and Finding Neverland— showed off his adventurous side. And, beyond that, they were pretty good, too. And, therein lies the problem with the current state of Depp's career. While he continues to showcase a willingness to experiment, taking chances as powdered-face weirdos in films like Alice in Wonderland, Charlie and the Chocolate Factory, Sweeney Todd, and Sleepy Hollow, his films are no longer that good. In fact, most of them are just downright bad. As Depp gets older, his films continue to skew younger, a trend that's alienated him from the kind of moviegoers that films like Transcendence are meant to appeal to. (You know, adults.)
The good news is that in between his upcoming role as the Big Bad Wolf in the upcoming musical Into the Woods and his fifth go-round as Captain Jack Sparrow in the next installment of the Pirates franchise, Depp has signed on to play Whitey Bulger in Scott Cooper's upcoming biopic Black Mass. That's a relief for a generation for audiences who grew up watching Depp the consummate artistic renegade. If only he hadn't stopped growing up with us.