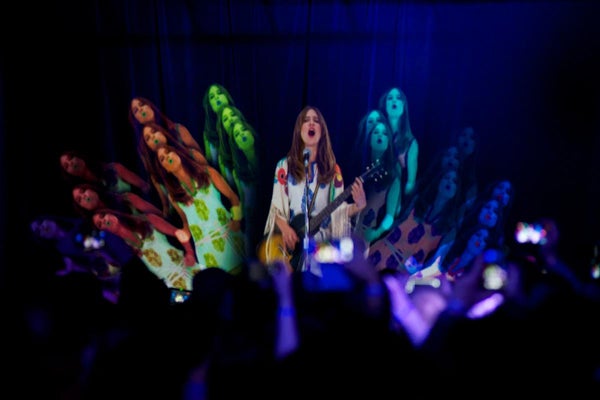 As the Newport Folk Festival has grown, so has its definition of "folk" — to the point where many of this year's artists dabble in pop, rock, psych, and more. Yet even as the festival has expanded, the sense of pure spirit under, which the festival was founded back in 1959, remains intact. From July 26 to 28, there will be appearances by artists as diverse as alt-rock chameleon Beck, folk legend Ramblin' Jack Elliott, chart-toppers The Lumineers, The Decemberists' Colin Meloy, and the incomparable Feist. Below, we've selected some of our favorite acts from the fest, along with a complete list of bands by the day they are playing. See you in Newport!
The Mountain Goats
In our opinion, you'd be hard-pressed to find a working musician who tells better stories or writes better lyrics than The Mountain Goats' John Darnielle. From his lo-fi roots to his more expansive recent material, Darnielle is a folk classicist whose work transcends genres with tales of West Texas woe.
Dawes
In just three albums, Dawes has gone from Laurel Canyon-indie darling to Bob Dylan opener. Now a headliner in its own right, Dawes will be curating the "Dawes and Friends" event at the Jane Pickens theatre in Newport.
Feist
One of the biggest names on this year's marquee, Feist has nearly a decade of hits behind her, ranging from pop to alt-country to experimental rock. She's a tour de force that can command the biggest arenas and festival stages in the world.
Andrew Bird
Over the years, Andrew Bird has brought whimsy and wonder to the indie world. Using his background as a classically trained violinist as a starting point, the Chicago-based musician rarely settles on one genre or idea, instead continuing to infuse experiment classical, jazz, folk, and more with his distinctive pop sensibility.
Father John Misty
While Josh Tillman may be known to some as Fleet Foxes' ex-drummer, he has eight albums of solo material that are as compelling as anything he did with his old bandmates. Now under the moniker Father John Misty, Tillman writes incisive, sometimes sad, often hilarious psych-folk songs that are best heard with a bottle of good old-fashioned whiskey or any other substance you can find.
Ramblin' Jack Elliott
Ramblin' Jack Elliott is, quite simply, a legend. Over the years, the folk singer recorded with Woody Guthrie, released countless studio albums, and toured nonstop. Now at 81 years of age, he's still got the same cherished drawl that made him famous in the '50s.
Bonnie "Prince" Billy and Dawn McCarthy
The only thing surprising about the team-up of alt-country legend Bonnie 'Prince' Billy (a.k.a. Will Oldham) and Faun Fables' Dawn McCarthy is that it didn't happen sooner. The two have a new album of songs originally performed by the Everly Brothers, which they'll be drawing from during their set.
Michael Kiwanuka
Born in North London, Michael Kiwanuka draws from folk, R&B, soul, and more for a style that sounds out of time, but never dated. Last year he also won the BBC Sound of 2012, which brought him further fame in his home country and abroad.
Beck
Beck has been many things over the years: alt-rock pioneer, folk crooner, electro-R&B star, and more. No matter which version of Mr. Hansen appears at Newport, the show is sure to be a great one. And with a new album in the works, we may even get a taste of some yet-to-be-released material.
Friday
Feist
Old Crow Medicine Show
The Mountain Goats
John McCauley
Phosphorescent
Amanda Palmer
JD McPherson
Blake Mills
The Milk Carton Kids
Hey Marseilles
The Last Bison
Kingsley Flood
Low Anthem's Newport Homegrown
Saturday The Avett Brothers
Jim James (of My Morning Jacket)
Colin Meloy (of Decemberists)
Trombone Shorty & Orleans Avenue
Father John Misty
Justin Townes Earle
Jason Isbell
Iris Dement
Shovels and Rope
Frank Turner & The Sleeping Souls
Langhorne Slim & The Law
The Lone Bellow
Sarah Jarosz
Nicki Bluhm and The Gramblers
Hurray for the Riff Raff
Houndmouth
Elizabeth Mitchell and You Are My Flower
Rayland Baxter
Joe Fletcher's Nashville to Newport
Sunday
Beck
The Lumineers
Andrew Bird
Ramblin' Jack Elliott
Bonnie 'Prince' Billy and Dawn
The Felice Brothers
Beth Orton
Michael Kiwanuka
Lord Huron
Michael Hurley
Black Prairie
Tift Merritt
Spirit Family Reunion
Bombino
Cold Specks
Elizabeth Mitchell and You Are My Flower
Wheeler Brothers
Berklee Gospel & Roots Choir