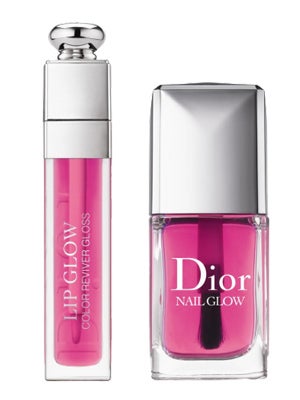 We blame Glo Worms for our fascination with all things glowy — those light-up little buggers were one of our most prized childhood toys. They're also the reason that whenever our grown-up selves see anything that promises to add a "glow," our inner child squees with delight. So, may we present to you, Dior's new Nail Glow Enhancer and Lip Glow Color Reviver Gloss. Commence squeeing.
Modelled after the brand's beloved
Addict Lip Glow Color Reviver Balm
, luminosity meets luxury with these transparent, shiny, color-adapting shades. One swipe helps create a natural glow —
the polish boosts the pink color of nail beds and brightens tips for an instant French manicure effect, while the gloss adds a sexy, naturally flushed look to lips
. With sticky summer weather right around the corner (we hope), these lightweight, low-maintenance primpers are going to be in heavy rotation in our beauty routines. We think our Glo Worms would approve.