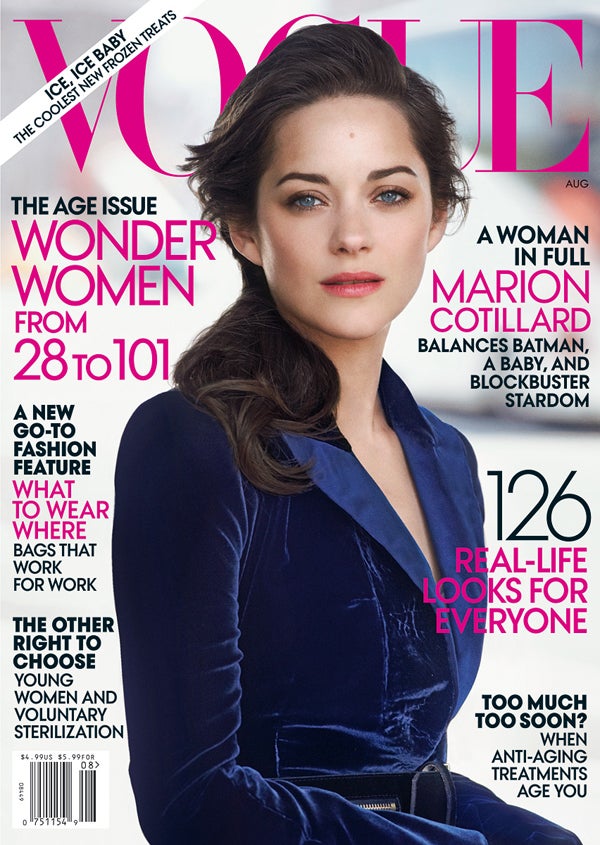 Elegantly dressed in a navy blue velvet suit jacket,
Marion Cotillard looks phenomenal on Vogue's August cover
. And, with piercing blue eyes and soft makeup, we don't even notice the 36-year-old actress is on the "age issue," because for her, age doesn't seem an issue at all (maybe she read
this morning's article
?). Sure, the new mom to one-year-old son, Marcel, and star of the upcoming
films
mega-hits
Dark Knight Rises
and
Little White Lies
has enough on her plate to induce pesky stress lines, but between her flawless skin and Peter Lindbergh's impecable cover photography, it's hard to tell. The French beauty-turned-Hollywood-bombshell says, "I've never been more exhausted. But I've never had more energy. This is the paradox of being happy. That's where it comes from." We see this in her photos throughout
Vogue's
spread — there's something relaxed about her posture and demeanor in front of the lens, and yet something incredibly energetic about the snaps, too. Guess that's why they pay her the big bucks.

Photos: Courtesy of Vogue