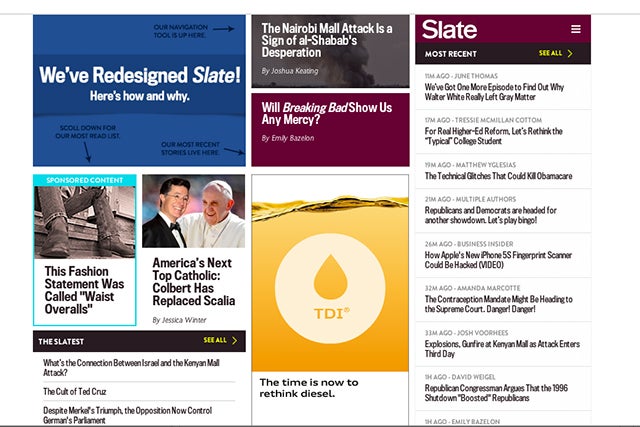 Photo: Courtesy of Slate.
For the first time since 2006, veteran web publication
Slate
has finally redesigned its site. Playing to the increased production of daily articles, as well as the various devices readers now use to access their content, Slate has adopted what
Mashable
calls a "responsive design," which also allows room for new ad formats. Though the most obvious change is in the organization of articles, which is now structured by section and writer rather than chronologically, the most subtle change is also a huge one: Slate has not only reduced its logo size, but has moved it to the top right corner, bringing content to the forefront of its user experience, rather than its brand. Speaking to this change, senior product manager David Stern says, "We wanted people to be able to get to the content they were interested in reading with two pages: the home page and the article page. We didn't want to risk [readers] stopping off on a landing page and risk that we would lose them, that they wouldn't get into consuming something as quickly as possible."
What else does the new Slate offer? In an attempt to toss the visual clutter of its former page, the carousel of stories has been replaced with spotlight stories in colorful tiles, as well as a stricter denotation of when a reader is viewing sponsored content. Having gone through a recent redesign ourselves, we have our fingers crossed that Slate won't experience too many kinks. (
Mashable
)