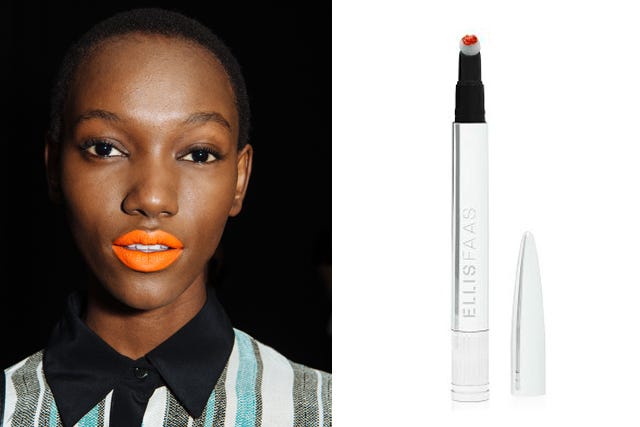 Photographed by Nina Westervelt; Courtesy of Ellis Faas.
Maybe I've just led a sheltered life, but one of the most traumatizing times for me is the autumn afternoon each year when I have to retire all of my vibrant, warm-weather lipsticks. Listen: I'm a beauty editor; therefore, I am very involved with my makeup — and sheltered, clearly, but we've already established that.
Back to the lipsticks: I love a good autumn red or winter black cherry as much as the next girl, but they're simply runners-up to my true love of bright lips. I'm not sure who decided what made a lipstick "seasonally appropriate," or why we even had to have such a thing as lipsticks for each season, but I'm finally done with the whole rigmarole — I'm going to wear whatever lipstick I damn well please, whenever I want to wear it.
It took a wise beauty mind to open my eyes to the error of my lipstick-switching ways. While hanging with the crew of Woodley & Bunny during our Tinseltown holiday pop-up, I got to speaking with W&B's customer experience manager, Zeke. He showed me Ellis Faas' spanking-new Hot Lips collection of neon-bright hues, and it was love at first sight. As I eagerly swatched the array of neon pinks, fluoro roses, and shocking citrus on the back of my hand, Zeke said something that basically became my cosmetics "come to Jesus" moment: Winter is already drab enough — why make yourself look duller with a muted color palette?
Granted, this isn't the most shocking of beauty philosophies, but it felt like such a refreshing take to me. For so long we've been peddled the theory that we need to wear colors that are "right" for the season, that the concept of just wearing whatever the hell we want on our lips feels so foreign.
I've embraced this new mission statement with gusto, ferreting out all those pretty corals, lilacs, and hot pinks I had stored away with my bronzers and after-sun lotions. And, of course, I snagged one of the new Hot Lips to round my collection out. The colors look just as amazing with my winter-paled complexion as they do with my sun-kissed one. In fact, I'd argue that they almost look better — they help to keep my complexion from looking washed-out and immediately erase even the faintest hint of dull and drab from my look. Hot lips, indeed.

Like this post? There's more. Get tons of beauty tips, tutorials, and news on the Refinery29 Beauty Facebook page!