Photographed by Piers MacDonald.
Rita Ora is the very definition of a beauty chameleon. Whether she's stomping through the mud at Glastonbury or done up in a designer gown for the Met Gala, she always finds a way to inject her own uniqueness into whatever she's wearing. The afternoon of my interview with her at London's Cafe Royal hotel is no different. While deftly posing for photos — wearing her signature red lipstick — she suddenly stops and turns to me.
"Do my eyebrows look fucked up?" she deadpans. "I just did them this morning." It's only then that I realize Rita's typically dark brows have been dyed a shade of white-blonde, turning her typically vintage visage into something all her own.
It's that do-what-I-want, have-every-experience personality of hers that landed Rita her latest gig with DKNY. She's been tapped as the face of the brand's first pillar fragrance in a decade, My NY, which strives to capture the diversity that defines New York City. Rita, who was born in Kosovo and raised in the U.K., was selected to represent the people the city is filled with — those who show up there to kick ass, take names, and look fly doing it.
"When [Jay Z] signed me, I was 17, and I had to move to New York," she explains, once we've discerned that, yes, her eyebrows look fine. "New York was the first city I recorded in a real, professional recording studio. I had my first show in New York, got my first tattoo in New York — it just makes you want to do things you've never done before."
We chatted with Rita about her festival beauty routine, why she changes up her look so often, and some of her favorite NYC haunts. Turns out, even though she's living in London now, she'll always be a New York City girl at heart.
Photographed by Piers MacDonald.
You change up your look constantly. Like, it's incredible that you dyed your eyebrows this morning. You just had those rainbow braids, and they were so good.
"Aw, you liked that! Thank you!"
They were amazing. What inspires you to change things up?
"You know, people always ask me that, and they don't understand because I don't even understand. I just wake up, and I have a feeling that I want to do something, and I just do it.
"The rainbow braids came from my adidas collection, which I designed with a multicolored jumpsuit, and I wanted my hair to match. See, I look at my hair as a piece of clothing, I don't just look at it as 'just hair.' I try to match the visions together. I love experimenting. Honestly, I'm so easy-going, I don't judge anybody, so I don't want people to give a shit."
Have you ever done anything that has scared you? "Oh yeah, I do things all the time that scare me. I'm scared about whether or not I'll get my eyebrows back! [Laughs.]"
You're big on the festival circuit, so tell me a little bit about your packing list for Glastonbury.
"Always a pair of boots, because it's going to get muddy. I've got this amazing, gangster, leather jacket, a ton of denim, because you don't really get to wash during the festival. And, always some bright makeup.
Anything specific in terms of makeup?
"Well, I'm thinking about dyeing my eyebrows purple after today. [Editor's note: We're still waiting on those, Rita!] I don't know what it will look like, but we'll see!"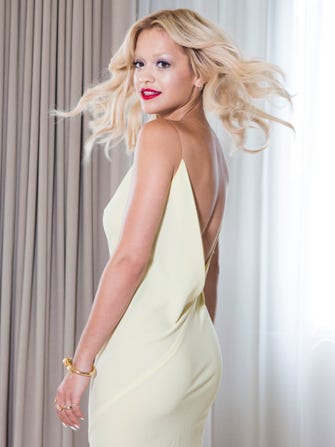 Photographed by Piers MacDonald.
So, let's chat My NY. You shot in NYC — what was that like?

"While I was shooting this, we did it in the middle of Times Square and it was freezing. I was wearing a dress like this but in pink and I just remember being so cold but smelling so great at the same time."
That's the most important thing!
"No, I'm very big on smelling good all the time. It's always a very big deal for me. It's very disappointing when you meet somebody and they don't smell good — especially with guys. So, I make sure I do my part and smell nice. It's the least I could do."
Did you find any new places you loved while you were shooting in the city?
"I found this place called The Spotted Pig, and I'm obsessed with it. It's got the best burgers, and it reminds me a bit of a pub. My dad owns three pubs in London, so it kind of reminded me of home. They have beers there — you can pour your own pint. I liked it there a lot."
Any old standbys from when you were living there?
"I remember when I was recording my first album, I had an allowance so I had enough money to eat and stuff. I spent it all in this boutique called LF. It would just stock really cool things, but for cheap."
Where would you see yourself wearing this fragrance?
"I always imagined myself riding a bike in the middle of New York City, having no jumper on. Do you know when it's really humid in New York — it's crazy in the summertime — and you're wearing no jacket. You're not even carrying a handbag, just your phone and some lipstick, and a card in your pocket. You're just free.
"It's all about the scene [in New York]. You just bump into so many things, so many people, so many shops — that's what the fragrance is like to me. It's an approachable way of letting loose. Even though you're a working girl in the city, you still feel glamorous at the same time."
DKNY My NY, $48-$88, available in August in department stores.

Like this post? There's more. Get tons of beauty tips, tutorials, and news on the Refinery29 Beauty Facebook page!