Photographed by Winnie Au
Don't call
Mike Perry
a "painter" or "illustrator," okay? We mean, yes, he's known (and lauded) for his expansive, incredibly detailed 2-D compositions made of paint and canvas. But that's just a slice of his story. "What I do is on the massive scale," he tells us in his sunlit, tool-packed Brooklyn studio. "Really, I'll do
anything
— illustration just happens to fall into
part
of what that is."
Unlike many traditional artists, his oeuvre can't be defined by the art and artifacts he produces. For Perry — who, in his workspace, looks more the part of a craftsman than the romantic
Photographed by Winnie Au
notion of a painter — how he materializes and distributes his art is core to the whole process.
Not only does Perry maintain one of the art world's most expansive and electric creator-owned social and online presences (
take a look
, y'all), he's worked with Fortune 500 corporations and community boards alike to get his images out there.
The culmination of his efforts thus far is
Wandering Around Wondering,
a three-month immersive, online-savvy exhibition of his work housed and created in a pop-up gallery in Crown Heights. It's rare that an acclaimed artist takes it upon himself to bring works into a community so far-flung from industry galleries and buyers, but with the unprecedented, unlikely success of
Wandering Around Wondering
, you can bet more of his peers will follow. In his Crown Heights (obviously) studio, we chatted with Perry about his simple beginnings, his drive to bring art out of the gallery, and, um, landscaping. As we said, he's not
just
an illustrator.
Photographed by Winnie Au
"Growing up, I was always drawing little doodles in notebooks. Then, around 13 or 14, my grandfather (who was kind of estranged from the family) gave me a tackle box full of oil paints. That gift set the fire. I started just messing around with the oils and became obsessed. I just couldn't stop. The summer I got those paints I probably did 100 paintings. I just couldn't stop."
Better by Design
"When I showed up to the painting program in art school, it all of a sudden felt pretty flat. I felt like I was going to be stuck in the past forever. But I took this design course, and it was just amazing. There was something powerful about the act of design, the ability to combine lots of different ideas and lots of different aesthetics and lots of different medias and materials; whatever you needed to do to accomplish the goal. That was just the sexiest thing in the world to me. Yeah, I ended up in the design program pretty quickly."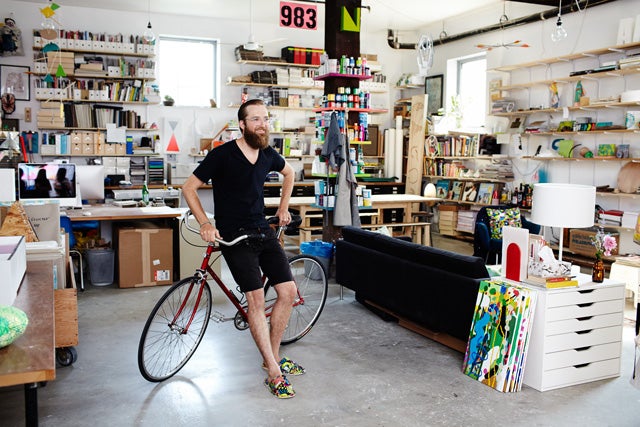 Photographed by Winnie Au
Block Party
"I'm super-disappointed there's not more art interacting with the community. Me, I want to bring it to everybody. Wandering Around Wondering, a pop-up exhibition started as me wanting to do a really big show, and I wanted it to be somewhere. And I thought, 'Why not do it in my neighborhood, where I live around a bunch of people I'm starting to develop relationships with as a community?' I opened the door, and the results were just incredible, because I was connecting with the people in my neighborhood. It's actually spun out of control to the point where
Photographed by Winnie Au
I'm doing the creative direction for the neighborhood, and we're working with all of the little organizations to create a unified visual language, so we can grow as a community. You don't get that from a gallery."
Landscape Artist
"Sure, I spend a lot of time making paintings and doing drawings and illustrations. That's just the beginning. When I think about what my goals are and my path and all the things that I want to do, I want to be able to add my art to buildings, create landscaping projects, and all these things that, in my head, fall under the umbrella of the design process. I always have these ideas, and painting always feels too small."

Grooming by Bethany Brill