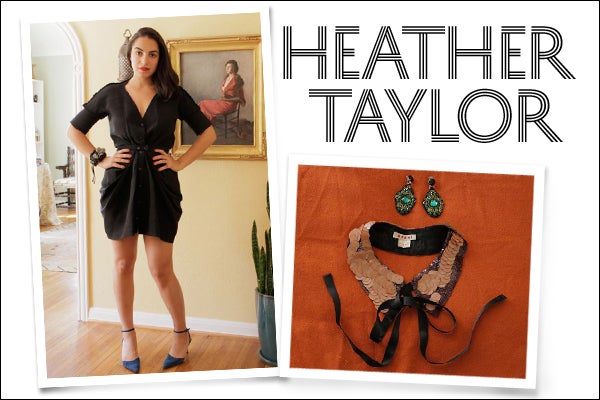 Being part of the art scene isn't just about finding new, exciting
talents or curating challenging exhibitions — there's a lot of cocktails involved to. Because nothing happens in the art world without a chic opening event, owner and director of Taylor De Cordoba Gallery and LA In Bloom blogger Heather Taylor is a vet at prepping an eye-catching evening ensemble without fuss or muss. Memorize her tips for attacking a night-out look, and you'll be a walking masterpiece.
"As an art gallery owner and blogger, I am always on the go seeking out the next big thing. Which means that in addition to my day job, I regularly find myself at evening events — art openings, fashion parties, etc. — that require primping and styling beyond my everyday look. And after working a full day at the gallery, I usually have a solid 10 to 15 minutes to pull myself together and morph into something presentable. The secret to my success as a quick-change artist is developing a uniform and switching out the details. The result is a signature look that, at this point, I could put together in my sleep. My formula:
Advertisement
ADVERTISEMENT
"First, select a hair and makeup style and stick to it. I rarely have time to deal with my hair, so sweeping it back in a low bun with a center part is my go-to hairstyle. Paired with bright-red lips and curled eyelashes, it's dramatic yet easy.
"Second, make accessories the focal point. I love to start with statement earrings or a necklace and let it inspire the rest of my look. The same goes for a killer shoe, as it makes a big impact and gives you so much bang for your buck. I also adore my Clare Vivier clutches as they seamlessly go from day to night.
"Finally, buy quality, timeless foundation pieces and wear them forever. I have dresses that I've been wearing for 10 years that I continue updating with new and colorful accessories. My favorite outfit of the moment is a black chiffon Diane von Furstenberg dress (circa 2004) paired with Prada earrings and a bracelet, my Prada velvet bag, and a vintage Carolina Herrera white lace bolero (purchased for my wedding day)."