You already know
what we wear to Fashion Week
, but it's no surprise we like to get decked out for "real life," too. The perfect occasion for putting together a chic outfit? Dinner at one of our (and soon to be your) favorite restaurants, obvs. And though we may not pull out the super-dressy stuff for, say, a casual brunch, we certainly try to put together inspired outfits that would make our fellow
diners gawk
editors proud. In true form,
we've paired some of our ultimate NYC eateries with the outfits we can't wait to wear there
. From a quick sammy on Saint Mark's to a five-course meal in Tribeca, these delicious bites definitely deserve an equally scrumptious look. So, go ahead and steal our swag — we're cool pretending it's a coincidence when we're both rocking
that
dress, table-side.
Christene Barberich, editor-in-chief: Seersucker
"Even though Seersucker is a pretty laid-back restaurant — and nearby my home in Boerum Hill — it has a really festive vibe, which always makes me want to dress up a bit. The food is a delicious modern take on Southern cooking, and the owners, Kerry and Rob, are incredibly cool and hospitable. Which is evident, since Seersucker is always completely packed."

Zara Palazzo trousers, $49.90, available at Zara; Girl By Band of Outsiders Carmen blazer, $455, available at Shop les Nouvelles; Asos envelope clutch, $35.81, available at Asos; Rupert Sanderson platform sandals, $1,325, available at Rupert Sanderson; Chantecaille Lip Chic in Violetta, $33, available at Barneys.


Photo: Courtesy of Seersucker, photographed by Shanita Sims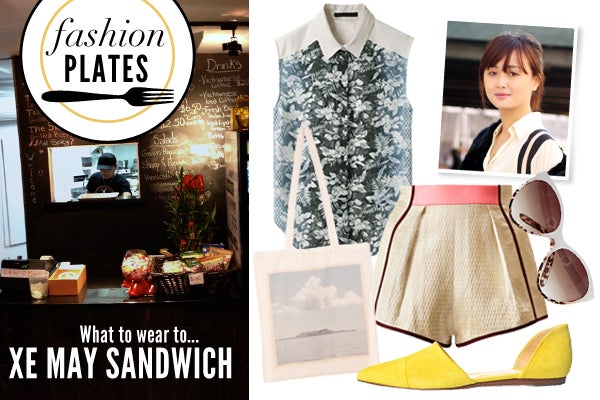 Connie Wang, global editor: Xe May
"For some inexplicable reason, I haven't been able to find a decently priced, no-frills, classic Banh Mi sandwich...until Xe May opened up right in my neighborhood. They have amazing Viet-hybrid combinations like their meatball sandwich, Vietnamese tacos, but I prefer their classic BBQ pork, headcheese, pate, and pork sandwich, all washed down with a iced lychee green tea. I usually stop by Xe May for a quick bite before weekend adventures, and can't wait to chow down stoop-side in a fun pair of shorts, summer flats, and a printed top."
H&M Linen Shorts, $39.94, available at H&M; Alexander Wang Ombre Shirt, $425, available at La Garconne; Jenni Kayne D'Orsay Flat, $415, available at Jenni Kayne; Borders & Frontiers Cloudy Island Shopper, $21.49, available at Asos; Mango Cat Eye Sunglasses, $37, available at Mango.
Photo: Courtesy of Xe May Sandwich, photographed by Shanita Sims

Kristian Laliberte, senior editor: Gilt in The Palace Hotel
"Even before Gossip Girl I've been obsessed with The Palace Hotel — I used to come up to NYC with my parents and always do dinner at Le Cirque. While Sirio Maccioni's restaurant has moved, the space now houses Gilt, which next-leveled the decor without compromising the original, historical interiors. While it's certainly not a get-wasted, fun Friday night spot à la Miss Lily's, the luxe eatery is the jam when it comes to planning a serious date or celebrating, say, a promotion. The jaw-dropping dining room serves equally stunning (and delicious) food — I especially like trying the tasting menu, as it's one of the only times I'll be adventurous with my palate. For my outfit, I of course chose something I think Chuck Bass would rock, though no ascot, thank god. A clean, slim fit suit and perfect, fancified denim shirt get some life thanks to some camo Stubbs and, duh, it's spring, a pop of color. Be forewarned: Sneakers and jeans aren't allowed, but I know you weren't going to wear 'em anyways."
Ernest Alexander
Owen Charcoal Blue Denim shirt, $140, available at Ernest Alexander; Stubbs & Wootton Camo shoes, $450, available at Stubbs & Wootton;
The Tie Bar Knitted Hunter Green tie, $15, available at The Tie Bar; Suit Supply suit, $399, available at Suit Supply; Gant By Michael Bastien braided belt, $145, available at Park and Bond.
Photo: Courtesy of Gilt, photographed by Amelia Alpaugh
Neha Gandhi, deputy editor: Tiny's
"I love the upstairs space here. With the warm lighting and exposed brick, it's the perfect setting for a good catch-up dinner with great friends — or a night out with a date you really like. Plus, I'm obsessed with the kale salad! I like this outfit for dinner here because the dress and sweater feel cozy and neutral enough for the space, but those wonderful Reed Krakoff wedges would keep me from feeling totally boring."
Reiss Annie sweater, $180, available at Reiss; Kain Edie dress, $264, available at ShopBop; Reed Krakoff leather sandals, $795, available at Net-A-Porter; House of Harlow necklace, $75, available at Nordstrom.
Photo: Courtesy of Tiny's, photographed by Erin Yamagata
Annie Georgia Greenberg, New York editor: Jung Sik
"Ask anyone that knows me and they'll tell you I don't need to be wined and dined in order to enjoy a good meal. I'm cool with a grilled cheese and a milkshake, I'd take a nice burger any day of the week. But recently, I dined at Jung Sik and the fancy-pants menu was not lost on me. Nope, not one of the 13 courses. There was even one dish called a 'cloud' that I'd highly recommend. This resto should be reserved for special occasions, so make sure to book now for birthdays, anniversaries, or ehem Thursdays...and dress to impress."
Tibi sleeveless long dress, $550, available at Tibi; Forever21 Alex & Chloe Rhinestone Geo necklace, $15.80, available at Forever21,; AllSaints Marsden leather jacket, $495, available at AllSaints; Zara sandal with snake skin straps, $89.90, available at Zara; H&M bag, $14.90, available at H&M.
Photo: Courtesy of Jung Sik, photographed by Julia Lola Wang