Photo: Courtesy of BeautyDNA.
In the beauty world, technology can be both a blessing and a curse. Just because we have the ability to do something, doesn't mean we have the ability to do it well (ahem, virtual-makeover tools and foundation-matching apps). Don't get me wrong, I love using technology to enhance my skin-care routine, but I think the industry is shooting itself in the foot by approaching beauty from a fun-and-games perspective rather than a "will this actually make my life easier?" one.
Take, for instance, the sites and services that promise to curate new products for you to try. The claim is that by answering an online questionnaire, the service will then be able to find you a new, previously undiscovered product that is perfect for your skin/coloring/issues/life.
As someone whose job it is to test beauty products (I know, tiny violin for me), I've always approached these beauty-curation services with a healthy dose of skepticism. No, that's a little too polite — I think they're full of it. I have a hard enough time figuring out which products to try myself, even with an army of derms, marketing analysts, and beauty-brand reps at my disposal. How the hell is a tech algorithm going to top that?
Well, I'm ready to eat my words because despite my utter lack of confidence in them, I've found one that actually lives up to the hype.
Meet BeautyDNA
.
Keep clicking to learn what makes this product-sampling service worth checking out.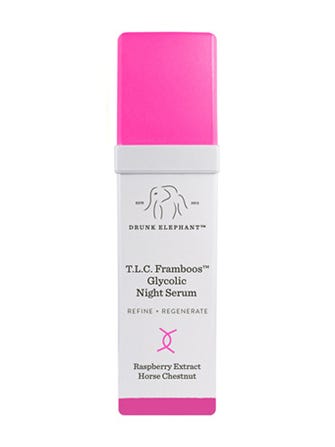 Photo: Courtesy of Drunk Elephant.
Now, at first glance, this feels like any other curation company you might have tried. You fill out a profile with some basic stats about yourself, answer a questionnaire with your preferences and concerns, then submit. For $25 per month (which is automatically deducted monthly from your bank account), you will then receive a full-sized product that BeautyDNA's algorithm has selected.
It all felt very been there, done that, but I suspended my disbelief and went along with it. After filling out the exhaustive questionnaire (do I consider my nasolabial lines moderate or severe? Do I prefer botanical scents to tropical scents? How big of an issue is aging hair to me?), I submitted my form and waited to see what product would come my way.
A few days later, I got my answer in the form of
Drunk Elephant's Framboos Glycolic Night Serum
. I was shocked. I am a huge Drunk Elephant fan, but it's a niche brand that not many mainstream beauty consumers are aware of. And, for all my DE devotion, I had actually never gotten around to trying this particular product from the line. BeautyDNA had me pegged right from the get-go.
Now, this could have been a total fluke, but I'm willing to believe its algorithm truly is superior. It took the answers to what I thought were somewhat useless questions and spit out a product that was both spot-on perfect for me and one I have never used before. The brand credits this to the fact that its tech was built by some of the "greatest computer scientists and algorithms experts in the world."
My biggest concern with these types of companies is that even if the algorithm is amazing, the service is only as good as the brands that partner with it. But, BeautyDNA is miles ahead of most in that arena. It boasts everything from high-end brands like Naturabisse to mass-appeal brands such as Dr. Brandt, and more under-the-radar ones like Coola and my good friend Drunk Elephant.
My gushing aside, clearly this service isn't for everyone. If you're the type of person who is lucky enough to have found your beauty-routine soul mate and are forever faithful to it, then this isn't for you. But, if you have a sense of adventure when it comes to your product selection, or are on the hunt for something new but feel overwhelmed by the overstocked beauty aisles, then this might prove a worthwhile investment. After all, that bottle of Drunk Elephant serum rings up at $90 retail, but with BeautyDNA you technically only pay $25 for it. I heart math that works in my favor.

Like this post? There's more. Get tons of beauty tips, tutorials, and news on the Refinery29 Beauty Facebook page!