You may already know that at Refinery29, we've been on a mission to
kill the phrase "bikini body,"
that we
don't do diets
, and that we're actively and powerfully spreading the message of body positivity. But what you might not know is that
this actually seems to be working
. While we still have far to go on the body-acceptance front, we were blown away by quite a bit of what you're about to see: the results of our latest survey of 1,100 R29 readers between ages 18 and 54 — all discussing how they feel about their bodies. This year, we increased our age range beyond just millennials in order to gauge how women feel about their bodies during different life stages. We also aimed to learn more about the places where social media and body image intersect — and what we discovered was illuminating. Check it out, let us know how you're feeling, and get ready to
Take Back the Beach
.
Advertisement
ADVERTISEMENT
We're Feeling More Positive About Our Bodies.
Mostly happy with their bodies
Completely happy with their bodies
A little happy with their bodies
Not at all happy with their bodies
We're Working Out For Generally Applause-Worthy Reasons.
(Weight Loss Wasn't In The Top Three Or Even Four.)
to support general health
to get toned
to get stronger
for mental health
to lose weight
because it's fun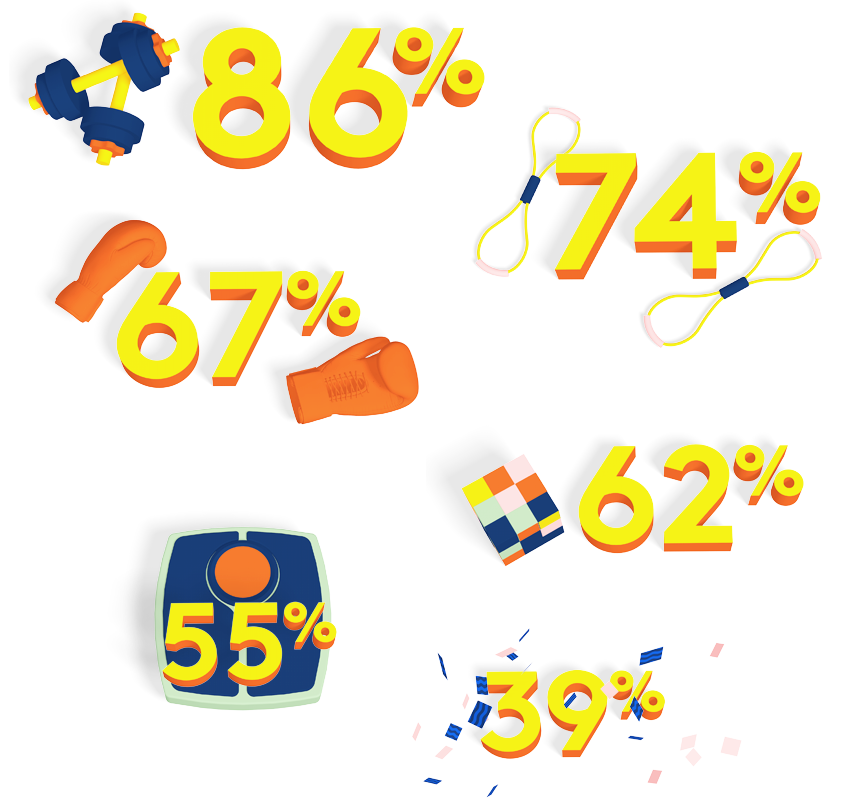 This is how we describe our bodies when we feel great about them:
We're Taking Photos At The Beach Mostly To Keep Our Friends Posted.
We do it to show off our beach style.
It allows us to control how we look in social posts.
...of women always post pics when they go to the beach.
But it's not all sunshine and margaritas.
of women reported feeling bad about their bodies after looking at others' beach photos.
of women who don't post beach pictures skip it because they feel self-conscious.
When we take selfies at the gym, it's not all about looks:
say they post gym pictures because they're proud of their workouts.
say it helps them stay motivated.
However, we may want to pause before overloading our feeds with gym selfies.
say seeing other people's gym selfies makes them feel guilty.
feel annoyed by gym selfies on social media.
In general, social media doesn't always make women feel better about their bodies.
of women reported feeling worse about their bodies because of social media.
of women who've unfollowed someone did so because they were sick of comparing themselves to that person.
Still...
of women said seeing body diversity in media made them feel better about themselves.
Sometimes, we let our insecurities hold us back from doing what we want to do.
have avoided activities because they felt self-conscious about their bodies.
do it most or all of the time.
We also need to check ourselves on the judgment front...
69% of women have felt judged based on their bodies.
69% have judged others for the same reason.
It's a two-way street.
But overall, we feel pretty damn good.
This is how often we feel 100% positive
about our bodies…
Almost 80% feel totally positive at least sometimes!
The Bottom Line:
The way we feel about our bodies can change from day to day, year to year, and even hour to hour, and (literally, according to our survey) no one feels perfect 24/7. What matters is not letting our very human insecurities keep us from doing whatever we want to do, wherever we want to do it.
It's time to #TakeBackTheBeach — and everywhere else.
Advertisement
ADVERTISEMENT