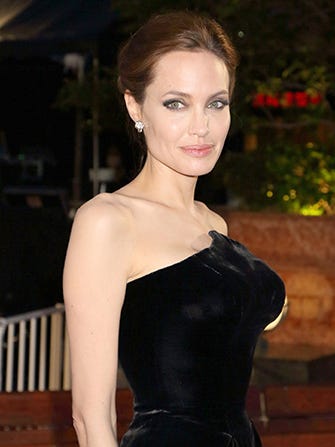 Photo: Rex USA/Rex.
When it comes to directing films, Angelina Jolie doesn't fiddle around with chick flicks or YA adaptations. Her first feature film was a love story set against the backdrop of the Bosnian war. Her next film, the WWII drama Unbroken, is due out Christmas Day (and has Oscar gold written all over it). And, now she's signed on to tackle a moving story that seems close to her humanitarian heart.
Jolie will direct Africa, the true story of paleo-archaelogist Richard Leakey's battle to save the elephant from poaching. Eric Roth, who won an Oscar for Forrest Gump, has written the script.
"I've felt a deep connection to Africa and its culture for much of my life, and was taken with Eric's beautiful script about a man drawn into the violent conflict with elephant poachers who emerged with a deeper understanding of man's footprint and a profound sense of responsibility for the world around him," the actress said in a statement.

Like this post? There's more. Get tons of celeb goodness, insider intel, movie and TV news, and more on the Refinery29 Entertainment Facebook page!