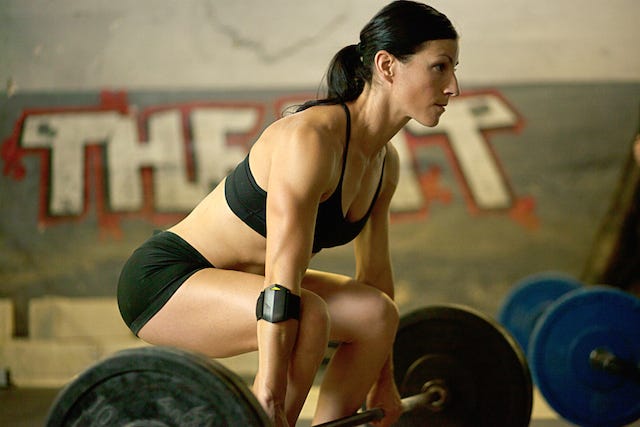 Photo: Courtesy Of PUSH.
In 20 years, when we're all wearing full-body fitness suits that force us to stand up and squat after we've been sitting too long, we're going to fondly look back at our basic trackers as one would a
Motorola Razr flip phone
: These gadgets were initially trendy and cool, but then we realized we could do better.
The access to constant, quantifiable data (step counts, distance covered, heart rate, sleep quality, etc.) that current trackers provide has taught us that, when it comes to improving your fitness, numbers do matter. Sure, coaches have always monitored every single aspect of their athletes' performance to uncover things to improve upon. But, now, this type of information is available to a mass audience — and it's become seeped into our daily conversations.
Pushing us one step closer to that futuristic fitness suit is
PUSH
, a wearable device and app that goes beyond measuring general activity; it also tracks your strength and monitors metrics such as reps, set, power, speed, and tempo. Unlike trackers like the Fitbit, PUSH isn't designed for all-day wear, explains co-founder Rami Alhamad. Nor are you supposed to wait until locker-room time to check out your workout stats.
I got to test out this band, which is slated for release this month. To start training with PUSH, you select a move from the app's exercise index (I chose the
back squat
) and it creates a game-plan of how many reps and sets to execute, based on your goal. You perform a set of movements and then check in with the app to see your stats — as well as tips on how to tweak your next round. The purpose is to stay in line with your specific goal, thereby optimizing each part of your workout. The device is worn around your forearm, and while the data it collects syncs wirelessly to your smartphone, you'll need to keep that phone nearby if you want to make real-time performance shifts.
While I don't mind working hard at the gym, it can be a bit annoying (and tedious) constantly checking in with an app after each set — as well as remembering to click over to a new move each time I switch exercises. The fitness-app concept is definitely exciting (NFL, NHL, and MLB teams and elite athletes are already on board), and PUSH is furthering the discussion of how to leverage data to improve your fitness. But, while understanding your power is cool, it doesn't seem particularly relevant to the everyday user who just wants an overview of his or her general activity. Oh, well — the future is looking pretty fit regardless.