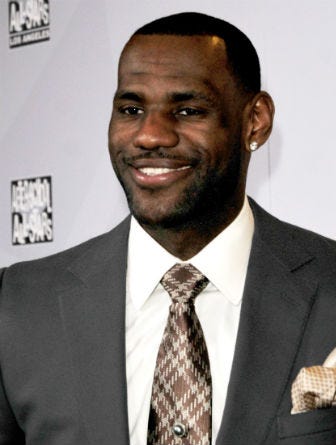 Photo: REX USA/Crollalanza.
If your Twitter is down today, you have one man to blame: LeBron James. After days of some of the most intense speculation in the history of professional sports, King James finally
made the announcement
the world was waiting for: He's going home.
After opting out of his contract with the Miami Heat last week, LeBron James will once again become a Cleveland Cavalier. For those of you familiar with the LeBron/Cleveland/Miami mythology, join me in a giant, breathless OMG.
For those of you less familiar, know this: What just transpired is theater that not even the Greeks themselves could conjure up, so settle in.
When James was drafted by the Cleveland Cavaliers in 2003, he entered the league as the most highly touted rookie ever. He was also a hometown boy, having grown up a basketball prodigy in Akron, OH. It was storybook stuff. But, after seven years of dominating the league, James still didn't have a championship ring to show for it. He was getting antsy, and it showed.
After announcing that he would explore his options in free agency, LeBron James took to national television to utter the fateful words that likely haunt him to this day:
"I'm going to take my talents to South Beach."
It was a corrosive, out-of-touch way to tell the world that he was joining the Miami Heat to form an all-star trio with superstars (and close friends) Dwyane Wade and Chris Bosh.
In Cleveland, all hell broke loose. Billboards were stripped. Jerseys were burned.
This letter was written
. Not only had James crucified himself in his hometown, he had become the number-one villain in all of sports. Basketball's golden boy was now its ultimate heel.
In Miami, James' image rehabilitation couldn't have gone any smoother. After four years with the Heat, he emerged a two-time NBA champion, a four-time league MVP, and one of the most marketable and likable athletes on the planet.
He's also older and wiser, which is evident in the way he decided to announce that he is returning to Cleveland. James released
a thoughtfully penned letter
via
Sports Illustrated
that explained in the simplest of terms: "This is what makes me happy."
It's hard to imagine the elation in Cleveland right now. The prodigal son is returning for some unfinished business. Put the billboards back up. Pull your jerseys out from the back of your closets. LeBron James is coming home.