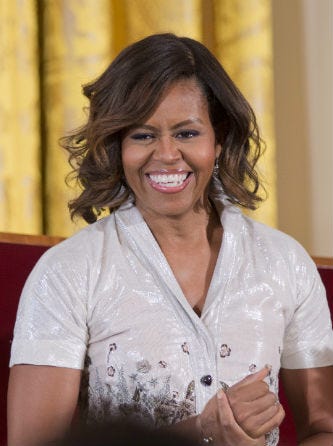 Photo: REX USA/Patsy Lynch/Rex.
Michellle Obama is very into the idea of a female president. Just don't expect it to be her. The First Lady attended the inaugural White House Summit on Working Families yesterday, and sat down with ABC's Robin Roberts to discuss the different policies that affect America's work force. But, it wasn't long before Roberts pressed her guest about her future after President Obama retires from office at the end of 2016.
"You sure you're not getting into politics?" Roberts asked.
"I am positive." Michelle replied.
That doesn't mean the First Lady doesn't hope to one day see a woman hold the highest office in the nation. In fact, quite the opposite. "That should happen as soon as possible," Michelle said. "And, you know I think this country is ready. This country is ready for anyone who can do the job," she added.
But, does Michelle think that person is Hillary Clinton? All signs point to yes. "What we have learned is that the person who can do the job doesn't have a particular race or gender or background or socioeconomic status," she concluded. "The person who should do the job is the person who is the most qualified, and I think we have some options, don't we?"