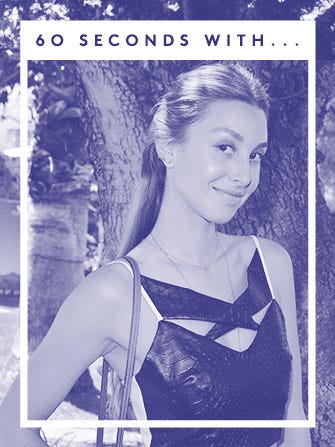 Photo: Courtesy of Herbal Essences.
Whitney Port has been the apple of our (beauty) eye ever since her glowing existence on The Hills and The City managed to somehow distract us from all of the juicy drama. (More Jason trouble? Whatever. What moisturizer does she use, anyway?) So, when we got the chance to chat beauty with Ms. Port in honor of her partnership with Herbal Essences, we were all over it. Plus, are any of us surprised that the girl ended up with a shampoo deal? Those shiny, swinging blonde locks are not kidding around.
One of our favorite things about Port's beauty look is that, whether she's strolling around town without a stitch of makeup on or walking a serious red carpet, the fashion designer never appears to take her looks too seriously. "For me, less is more on a daily basis," explains Whitney. "My everyday look is all about clean skin, cream blush, and curling my eyelashes." She explains that she mixes her regular moisturizer with
Jouer tinted moisturizer
for extra-light coverage and then follows with
Illamasqua cream blush
.
Despite all this, Port also isn't afraid of color and glamour when she gets ready for a night out. "I'll usually go with a smoky eye and a nude lip or a subtle eye with a colorful lip — red, orange, hot pink, anything!" While she doesn't shy away from poppy lip colors, Port is careful to use color in the right way. "I've had some makeup artists do some crazy things with makeup in the past, like crazy colored eyeshadows. It can look too cheesy. I like navy eyeliner — that's really pretty. But, the pastel-blue eyeshadow that someone once convinced me was perfect for me? Not so much." Bonus tip: Port admits that this is "kind of crazy," but if she finds herself having to run to an event right from work, she'll do a "quick body wash" with
Yes to Cucumbers makeup-removing wipes.
(No judgment here, Whitney.)

Like this post? There's more. Get tons of beauty tips, tutorials, and news on the Refinery29 Beauty Facebook page!
Of course, we also had to know how Whitney keeps her fine, blonde hair so healthy and shiny — even when it reaches her waist. The answer? "The best thing I do for my hair is let it dry naturally. Unless I'm going to an event, all I do is add a bit of Herbal Essences Naked Dry Shampoo and let it do its thing." Wait a second — dry shampoo on clean hair? So, that's what's behind her signature voluminous mane. "Sometimes, clean hair can be a bit on the flat side," explains Port. "The dry shampoo helps with volume. I'll put it up in a bun, let it sit for 20 minutes, and then let it loose — that adds volume and curl without using any heat." Port explains that she often goes without regular shampoo altogether — yes, even after working out — and opts instead to rinse out sweat and follow with the brand's Naked Cleansing Conditioner.
Now, on to those brows: How does she keep them so perfectly defined? When we brought up this topic, Port had a good laugh — apparently, those brows have a good story behind them. "I actually grew them out for an entire year with no one touching them, and then my sister came in from Chicago and was like, 'Whitney, your brows are out of control.' It was so funny. I was really into the bushy look, and I really didn't care that much. But, now I have
Anastasia
tweeze them every few months. Every day, I brush them up and gel them. I'll only fill them in if I'm going to an event."
Finally, we couldn't resist asking what Port had in mind for her wedding-day beauty look — and Port was happy to oblige. "I'm thinking with my makeup, I might go more simple and easy. But, for my hair, I might do a cool, sleek ponytail or a sleek bun, and just keep it all out of my face. Most people would expect it to be down and wavy, but I think that maybe I won't want to worry about my hair all night. Also, my fiancé's favorite look on me is actually a ponytail, so maybe I'll make him happy!"
Please excuse us while we go "aw" ourselves into oblivion — suffice it to say, we're Team Ponytail all the way!
Herbal Essences
Naked Cleansing Conditioner, $7, available at
Drugstore.com
; Herbal Essences Naked Dry Shampoo, $7, available at
Drugstore.com
.