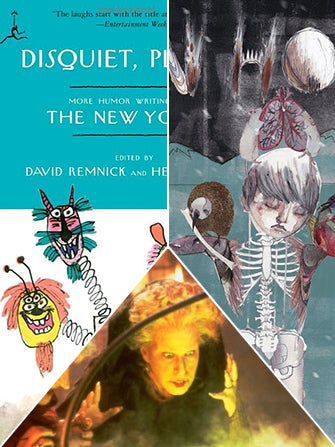 Photo: Courtesy of Modern Library Paperbacks; Mom + Pop Music; Walt Disney Pictures.
It's Sunday FUNday again, which means it's time for another R29 editor to share the new books, TV, movies, and music that have her (or him!) excited for the week ahead. Today, Lauren Caruso, our contributor network editor, is offering up her picks.
Sure, football season's back and all, but for me, Sundays mean hiding out under a million blankets and depleting my Netflix queue with my roommate (real riveting stuff here, folks). And, even though I haven't enjoyed a lazy Sunday since Opening Day — my friends' idea of a true Sunday Funday involves beer and Eli Manning, talent be damned — ahead, I've put together my picks, should my BFFs finally give up on the Giants.
Read: Disquiet, Please!
As an avid reader with ever-dwindling free time, I'm heavy into anything I can pick up for 15 minutes, get a good laugh, and come back to later. This compilation of short stories and essays from The New Yorker boasts a serious comedic lineup of vets like Ian Frazer, Simon Rich, David Sedaris, Veronica Geng, and Andy Borowitz. Sure, Sedaris' ridiculously dark recounting of that time he desperately tried to drown a mouse is a standout for me, but David Owen's "8 Simple Rules" for dating his ex-wife (which originally appeared in the mag in 2004) had me in tears: "Despite what you may have been told, I've got some self-respect left, and I don't need to have your face shoved into my face every time I turn around. From five o'clock on Friday afternoon until two o'clock on Sunday morning, the bar at the Ramada Inn belongs to me." A definite must-read for anyone looking for a laugh during their morning commute.
Watch: Hocus Pocus
Bette Midler, SJP, and Kathy Najimy exacting revenge on the entire town of Salem? Are you kidding me? I'm not big on Halloween, but I will stalk ABC Family's listings until this comes on. And, let's be honest: The only Halloween flick that rivals Hocus Pocus is clearly Double, Double, Toil and Trouble, another true classic.
Play: An Horse, Rearrange Beds A huge departure from my usual lineup of A$AP Rocky, Meek Mill, and Raekwon, An Horse's 2008 EP Rearrange Beds is something I come back to every fall. I first started listening to the Australian duo — comprised of Kate Cooper and Damon Cox — when it opened for Cage The Elephant (don't judge me) four years ago. The band's half-soulful, half-poppy (and yes, music snobs, very simple) sound is unexpectedly catchy for what's supposed to be indie rock. Either way, don't even act like you couldn't keep "Camp Out" on repeat for at least a good four days — especially if you're feeling nostalgic.