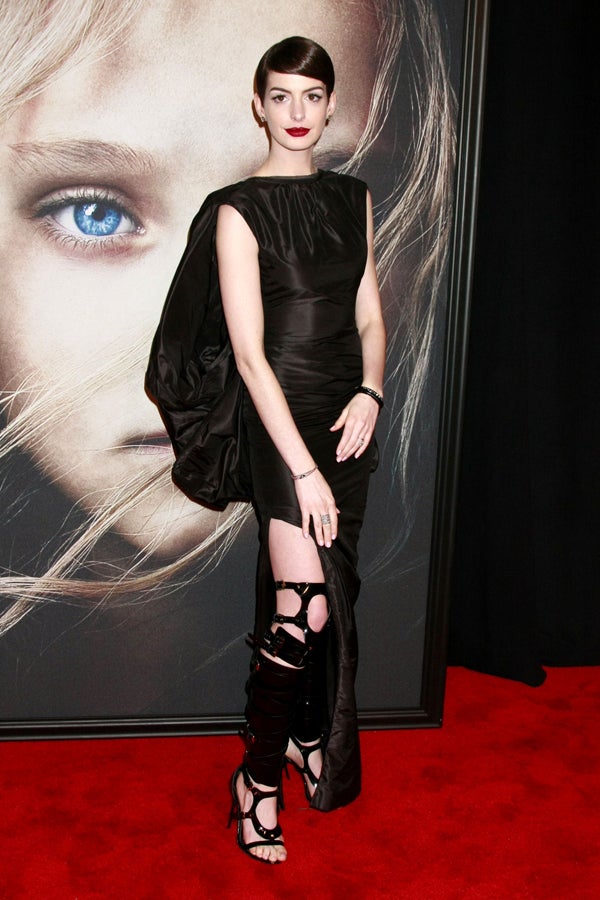 You know you've made it when Tom Ford is designing custom boots just for you — so, congrats to Anne Hathaway, 'cause not only is she wearing them, she is owning it.
The star rocked an all-black ensemble for the premiere of Les Misérables in NYC, complete with a puffy back attachment cape (?) and bespoke vegan thigh-highs with too many straps to count. The outfit, plus the super-sleek hair, the dark lip, and the "don't mess with me" gaze makes for a formidable sight. If you were freaked out by Fantine's vulnerability, don't worry: Ms. Hathaway is back, she's badass, and she's not taking any funny business.
This is one of her boldest looks to date, and unusual for any red carpet. Especially for the premiere of a period piece, you generally expect to see more baroque, traditional gowns. And while we're tempted to focus on the shoes, the truth is, those aren't shoes. They're shinguards for a
Lady Gaga soccer team.
Indeed, she is somewhat pulling this off with sophisticated aplomb — but there is certainly a distinct
Eyes Wide Shut
vibe going on here. Or is it
Terminator
?
Six Million Dollar Man
meets
Blade Runner
, perhaps?
Les Misérables Two: Hasta La Vista, Christian Grey
?

Photo: Erik Pendzich/Rex USA