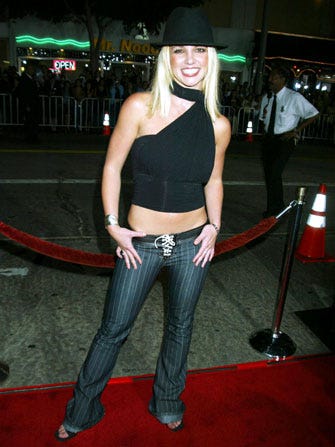 Photo: BEImages/Rex USA.
If you think Nicole Richie was
always classy
, Paris Hilton never wore
that
much pink, and Lindsay Lohan was always, um, unreliable, then you're forgetting about a little year called 2005. Things were so, so different then. Rachel Zoe had not yet made over half of young Hollywood into her vintage-goddess image. Britney Spears had not yet retired to a life of children and Cheetos. And, denim maxi skirts and a terrible thing called "boho" roamed the earth, unaware of their own hideousness.
To remember these trucker-hat times in all their glory,
The Huffington Post
has put together a list of the nine worst celeb outfits of 2005. Diane Kruger in an
I Dream of Jeannie
ensemble, Jennifer Lopez in a literal sack, and Kelly Osbourne
way
pre-makeover, anyone? Sadly, Brit Brit didn't make their list, but we nominate her pubic-bone-baring pants and fedora as the best-worst of the bunch. (
The Huffington Post
)