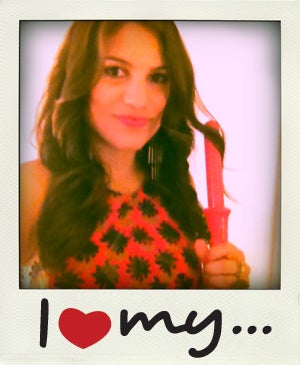 When I wake up in the morning, my hair looks like a cross between Frankenstein and Simba from The Lion King. Imagine someone who just took a spinning class and then got electrocuted. My front layers stick up like little antlers. Seriously. It's hot.
To top it off, I have a total type-A personality when it comes to my locks. When I once interviewed designer Prabal Gurung, he told me that his pet peeve is unkempt hair. "Women need to wear a little less makeup, and do a little more hair styling," he said. I agree. So, exiting my house without fixing my coif simply isn't an option.
Until recently, I was able to execute two styles on my own. Alternative one: Let my tresses air-dry, which produces a kinky, textured mop that suits the current hipster-beach hair trend. Or, blow-dry and flatiron my locks to get them Vidal Sassoon-commercial sleek. But, my favorite way to wear my mane — smooth on top with a loose curl on the bottom — was formerly only attainable through the help of salon professionals and their master abilities to work round brushes and dryer nozzles. Then, I found
Sultra's The Bombshell Rod Curling Iron
, and my primping routine completely changed. Cue crescendo.
I believe that having a great blowout can seriously affect GLH (a term my friends refer to as General Life Happiness). Seeing my lustrous locks bouncing in the breeze when I catch my reflection in a store window, tossing my ringlets around on the dance floor, or entering an important meeting with not a hair out of place, makes me feel confident. It's like having a special accessory that is completely unique to you. I swear, when I have a fantastic blowout, cabs seem to hail quicker, people open doors, and I wake up on the right side of the bed. This magical hot wand allows me to get my ideal salon style at home and in just 10 minutes.
The curling rod landed on my desk last October when I was writing up products that donate proceeds to breast cancer awareness, which explains why mine is a limited-edition hot pink color. The wand differs from other curling irons because it lacks a clamp. The process of using it is quite therapeutic: Wrap, hold, release, repeat.
Like the Wicked Witch of the West, I often fear rain, as my swirls will melt under Mother Nature's faucet. But, that's life: Things don't always go as planned. And unlike losing something you can't get back — like a moment in time or a misplaced piece of jewelry — my done 'do is something I can control. Even when I get caught in the biggest of storms, my trusty ol' tool is right at home, ready to bring back a little bit of happiness.