On Thursday, we posted the last of our four exclusive images from the long-awaited second season of the
Netflix
Original Series,
Orange Is the New Black
and asked our Facebook friends to share their cleverest captions. Season 2 has been available for almost a week, and we
may
have already binge-watched the entire thing. Even if winner Jennifer Roy has done the same, she still has a year to watch and enjoy everything else the entertainment hub has to offer, free of charge — thanks to her kick-ass captioning skills. Here's the shot of Nicky and Big Boo with Jen's spot-on description.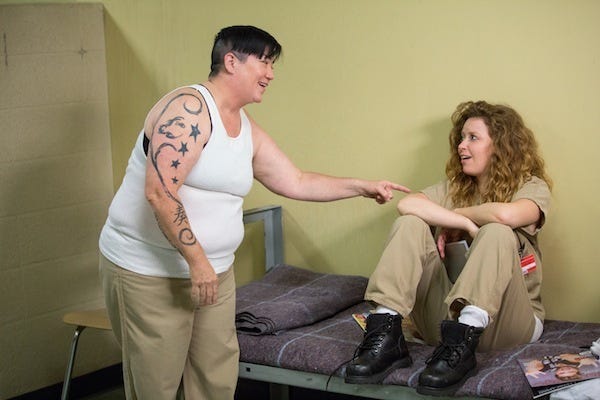 Photo: Courtesy of Jessica Milgio/Netflix.
"Couldn't just stick to the ol' magic marker mustache while I was sleeping, could ya?"
Those of us OITNB devotees who won't be streaming for free can take solace in the fact that the series has been confirmed for a THIRD season, and this won't be the last we see of the fine ladies of Litchfield. We're not even close to being done with, as Larry poetically put it, "this big adventure with liver and Yoga Jones." See you 'round the cell block, jailbirds.