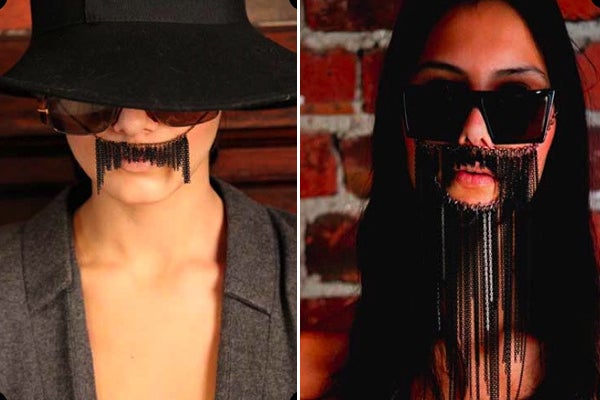 We're all for experimental accessories. Whether it's crazy headgear, shoulder pads, or
collar clips
— we'd test drive
just
about anything. But we've recently come across a style we may be a
tad reluctant to sport: faux 'staches.
Nope, we aren't talking about the prankster, party kind (although, those are good for a giggle). We mean mega-luxe lipwear (yes, it exists).
We have no clue when or why or how these even launched, but they're unlike anything we've ever peeped, that's for sure. And while we dig the idea of playing up our
cheek
ier side, we're not entirely sold on these facial "hair" embellishments, crafted by the S.F.-based jewelry-making ladies of
Litter
.
The prop-esque items attach to sunglasses and give the illusion of a beard or mustache...made out of metal. Okay, we get it, facial hair is a hot commodity right now (especially in Brian Wilson-obsessed S.F.), but why do we gals need to try the trend on for size?
Weigh in: Would you put a faux, fringed $90 mustache on it?