Occupation:
"Model/Stylist/Consultant, formerly at Narnia Vintage for years but now at Amarcord Vintage. News flash: Everything else is freelance styling."
What were your first pair of jeans?
"Do Osh Kosh overalls count? I guess it would be from the '80s or '90s... I wore 501's in the early '90s when white and colored jeans were so popular, like Claudia Schiffer in those Guess adds.
"I didn't get into the colored denim so much, but I once tried to bleach a pair of jeans in the '90s to try and make them super-white. It was not good idea — I just burned a hole through them. And when I tried to wear them, they split in the ass and down the side of the leg...and I was too insecure to rock them like that.
"Around the same time, I poured bleach all over my dad's dark jean jacket attempting to get the stone-wash look that I saw in the displays at the mall. It's still somewhere in Canada with this bleach spot over the pocket. I feel sick about it now...why didn't I just leave it be?"
What are you wearing?
"Vintage 1970's Orange Tab Levi's cut-offs ripped and shredded with a thin, floral cotton shirt and a pink bra from Journelle. I love Orange Tabs — Levi's should bring them back, they were so good."
How many pairs of jeans do you own?
"Twelve to 15-ish pairs."
Do you have a preferred philosophy when it comes to jeans: Sexy and skinny, or loose and comfy? 
"I wear both kinds, but in the last 10 years I've gone for a slimmer leg. I don't wear a lot off shredded, beat-up, or torn denim, but I guess I like it when I see it, as long as it's authentic. None of that whiskered, pre-faded, made-to-look-beat-up garbage."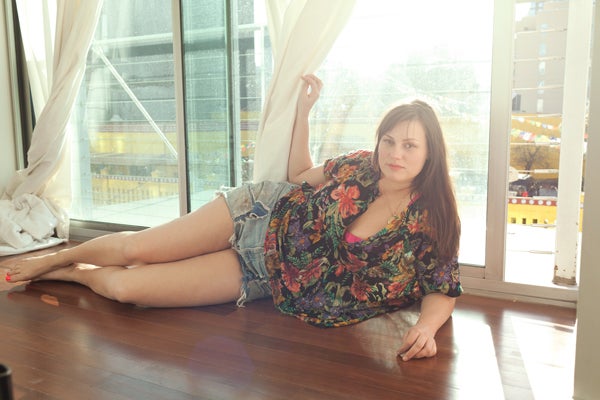 What's your signature wash...or does it matter?
"I prefer dark washes now. My bleaching days are over."
What's your favorite way to wear your jeans and with what?
"With a super-soft but crisp, well-cut T-shirt, usually in white or grey, minimal makeup with a bright red or pink lip, a scarf, some jewelry, and a watch. And cool shoes...preferably something that doubles as a slipper, like my African booties."
If your jeans had a name or theme song, what would it be? Or do they?
"'Rock On' or 'Still Lookin' for That Blue Jean Baby Queen' by David Essex. I'm such a cheese ball, but I love that song."
Favorite example of celebrity-jean wearing (i.e., Bruce Springsteen's Born in the USA album cover). 
"Giselle on the cover of V a few years back — assless, shreded cutoffs. So crazy... And Cindy Crawford in that Pepsi ad...I think she was wearing cutoffs, too. I also like Mariah Carey's jeans in the 'Heartbreaker' video. So bad, so good — the waist is cut off."
What do you love most about your favorite denim pieces? 
"I think I've rambled on long enough now."
Photographed by Kava Gorna. Casting by Megan Delaney.