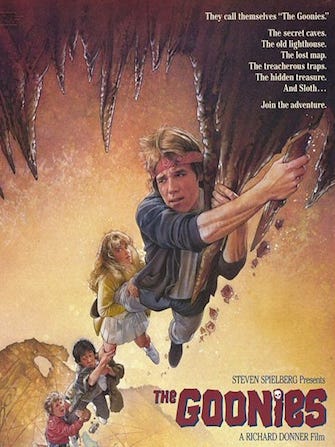 Photo: Courtesy of Warner Bros.
Director Richard Donner told TMZ he's hoping to reunite the entire cast for a second serving of the '80s cult classic. Because the world needs to see middle-aged versions of Sean Astin, Josh Brolin, Jeff Cohen, and Corey Feldman acting like children.
Astin is Samwise Gamgee in Lord of the Rings, and Brolin is Brolin. Post-Lost Boys Corey Feldman is not someone we want to think about. We don't know Jeff Cohen, and Google seems unlikely to help.
Zero is known about the plot for the upcoming sequel, but a reunion of the iconic cast will surely be enough in itself for Goonies fans. Though TMZ poses an interesting question: Will the cast from the 1985 classic be used in cameos for the sequel, or will they revive their roles from the original? A date is not yet set, but we're already psyched. Click through to the next page to see the cast then and now
Photo: Courtesy of Warner Bros; REX USA/Rob Latour.
Sean Astin played the role of Mikey. Since Goonies, he's spent plenty of time on the silver screen, namely as Frodo's best pal Sam in the Lord of the Rings trilogy.
Photo: Courtesy of Warner Bros; REX USA/Picture Perfect.
Jeff Cohen's character Chunk is an iconic member of The Goonies for his performance of the "truffle shuffle."
Photo: Courtesy of Warner Bros; Paramount Pictures.
Josh Brolin played the part of Brand in the cult classic. Since the 1980s, he's appeared in films including True Grit and No Country for Old Men.
Photo: Courtesy of Warner Bros; REX USA/Dan Wooller/Rex.
Corey Feldman is an iconic face of '80s youth flicks. In addition to Goonies, he was in Stand by Me and The Lost Boys. As of late, he's appeared in a few TV series, including Teenage Mutant Ninja Turtles.