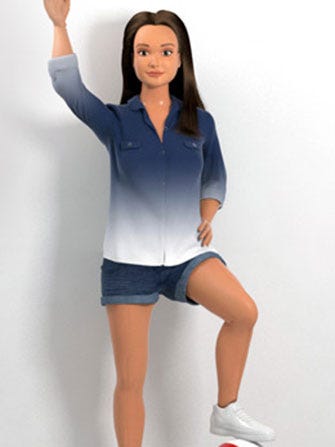 Photo: Courtesy of Lammily.
These days, it's getting harder and harder to be a kid. Education costs are on the rise, toys are giving off terrible messages, and don't even get us started on the loss of our favorite snacks from the '90s. But, back to the toys thing. We all know the perils that can come with Mattel's Barbie and her not-so-great-as-role-models friends. But, a new crowdfunding campaign is trying to change all that.
Artist and researcher Nickolay Lamm created a prototype of a lifelike 3-D Barbie last year, and the new fund is trying to raise enough money to bring the dolls to life (well, not literally). The "Lammily" doll, as it's currently called, is designed to look more like an everyday girl and less like a Victoria's Secret model. Think natural (or no) makeup, larger proportions, and laid-back outfits. She's meant to bring a better body image to young girls but, as Lamm told the Huffington Post, that's not the only benefit.
"The message about body image targets parents of daughters," he said. "Many young girls do not care about body image, they just want a fun doll to play with. This initial campaign is aimed more towards parents, but the future depends on young girls wanting to play with Lammily...She isn't just a
doll with typical body proportions
, she's a fun doll which just happens to have typical body proportions." If this sounds like something that's right up your alley, head over to the
fund
kick in a few bucks. Little sisters of the future might thank you.(
Huffington Post
)