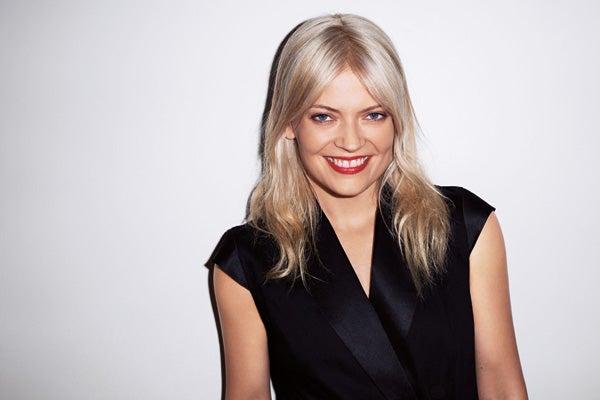 The folks over at Target don't believe in taking a break, apparently. Hot on the heels of the frenzy created by
Prabal Gurung For Target
(on sale February 10), the fashion pack's main chain is at it again with yet
another awesome collab
.
This time around, get rah-rah-ready to welcome super-stylist Kate Young to the Bullseye pantheon — her limited-edition collection, Kate Young For Target, hits stores April 14. Featuring more than 30 pieces, with prices starting at $14.99 and capping off at $89.99 (most of the dresses come in under $60!), the line will include handbags, shoes and jewelry. Look for quirky floral and star prints, stand-out pink, purple, and yellow hues, a plethora of sexy frocks, plus satin shorts, bodysuits, and blazers. From what we've seen so far, the pieces look perfect for a never-ending evening at Acme, dinner with the girls at Indochine (center banquette, please), or a full night of all-out dancing...Le Baron, perhaps?
Advertisement
ADVERTISEMENT
Of course, you know your R29 editors got all the dirt! Young sat down with us to answer all our burning questions and shared two exclusive sketches from the capsule. Who's ready to party?

Click through to read our interview with Kate (the Great!), and peep the first images from her teamup with Target.

How did the collaboration come about? Did Target approach you, or vice-versa?
"I've worked with Target as a stylist for years! During an appearance on Today in 2012, I shared my dream of creating an affordable line of apparel for women who love fashion; shortly after the segment aired, Target approached me about doing an entire collection and I immediately loved the idea. I even brought sketches of my inspiration for the collection to our very first meeting!"
Do you shop at Target? What has been your favorite collab so far?
"Of course, I LOVE Target and shop there often. I've also worked with the brand as a stylist for over a decade – so creating a collection with a brand I already know and love makes it even more fun. In terms of past collaborations, I think each collection has had something so special and unique about it. I've worked with many of the designers that Target has partnered with, so it's impossible to pick just one!"
How did you decide to do your first line on a mass price-point rather than on the other end of the spectrum?
"Target is known for its ability to create on-trend collections that are affordable, which has always been a dream of mine. I'm excited for the opportunity to challenge myself as a designer and introduce a collection to an entirely new audience. The collection is about allowing all women – regardless of their budget – to experiment with fashion and have fun with the pieces. With everything from special occasion dresses to satin shorts and blazers, this collection really does have something for everyone."
Advertisement
ADVERTISEMENT
Is this just the beginning of Kate Young, fashion empire?
"I'm thrilled with the final product of this collection and am focused on that right now. More to come on what's next for me!"
What were your inspirations for the collection?
"I have inspiration boards for each of my clients, and I did the same for this collection! Kate Young for Target reflects my aesthetic for edgy, sophisticated style and is designed to offer items that are ideal for special-occasion dressing. As a stylist, I wanted to create a collection that allows and encourages all women to create their own red carpet moments, no matter the occasion."
Do you think you can be fashionable just sticking to the "low" end of retail or do you think there needs to be a high/low mix?
"I don't think being fashionable is about the price of what you're wearing, it's more about how you wear it."
What's the one piece every girl should have in her closet this season?
"I don't think there's a right answer to that question! To me, it depends on who you are, what your life is like and what your figure is. I feel the standard answer is a black cocktail dress, but the idea of one of my potter friends from upstate New York wearing a black cocktail dress is absurd to me!
I would say that every girl should have something in her closet that makes her feel like her best self. It could be her favorite jeans, a T-shirt she stole from her ex-boyfriend that makes her feel sexy and a little triumphant for getting away with it, a black cocktail dress that packs well and can go out on a moment's notice, a pair of satin shorts that show off her legs… or even a little black tuxedo jacket that looks good from day to evening. It's all about knowing what you feel best in."
What about the season's hottest trend?
"My favorite trends for spring are: suiting, lace, sheer, and ruffles"
What's a big fashion no-no for you?
"Trying too hard. I hate when everything looks so contrived and perfect and overdone. You see the effort instead of the overall effect."
What's the MUST-own piece in your upcoming collection?
"It's impossible to pick a favorite! I'm so excited about introducing evening wear at such an affordable price – all of the collection's dresses are under $90! As for the separates, I love the bodysuit!"