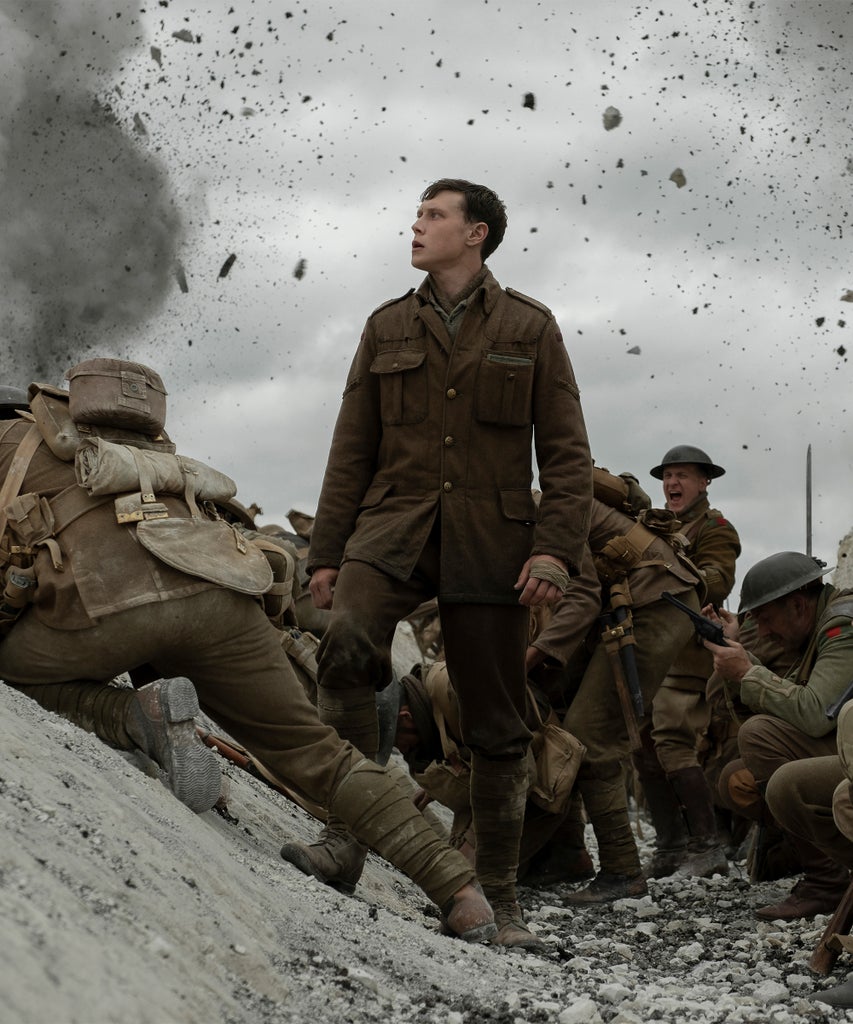 Sam Mendes, the
Oscar-winning director
behind
American Beauty, Revolutionary Road,
and
Skyfall
, helms the new World War I film
1917
. Starring
Benedict Cumberbatch
,
Andrew Scott
, Mark Strong, and
Colin Firth
, the film has a storyline reminiscent of
Saving Private Ryan
, that follows two privates in the British army who must deliver a message deep in enemy territory in order to stop 1,600 men — including one of their brothers — from walking into a deadly trap. 
The film was inspired by real events, stories told to Mendes when he was young by his grandfather, Alfred.
As a child, he knew his grandfather had served in WWl, but it wasn't until
Mendes was older that his grandfather
opened up about the horrors of the war, according to the
Telegraph
. The script, which Mendes wrote with Krysty Wilson-Cairns, was inspired by his stories.
"He was a great storyteller," Mendes said to
Time
. "He was very Edwardian, very theatrical. You know, he used phrases like 'Great Scott!'
And so he was a very magnetic person,
very charismatic." Young Mendes noticed that the older man washed his hands compulsively, and when he asked his father why, he was told, "He remembers the mud of the trenches."
During a
New York Comic-Con panel
for the film, Mendes shared more about how his grandfather's stories inspired the film, saying, "I think the first time I even understood the idea of war of any sort was when my grandfather told me about his experiences in the first World War. I couldn't have been more than 10 or 11. He fought in the war from 1916 to 1918. As an 18-year-old, he arrived on the front."
Most importantly, the director's grandfather sparked the idea for the film with a specific story, said Mendes. "He told me a story about carrying a message, and that fragment always stayed with me. I always thought that kernel of that [idea] would make something extraordinary."
The film covers Operation Alberich, the moment that saw the retreat of the German army in order to take a new position on the Hindenburg Line, which provided an easier position for their ranks to defend. While a military success for the German army, the retreat, which took place from February to March 1917, saw the demolition of the French countryside. Roughly 25,000 French civilians in the region – able-bodied men and women – were taken from their homes to work elsewhere occupied France and children, mothers and the elderly were left behind with minimal rations.
Mendes explained at Comic-Con, "It's not a story about my grandfather; it's not based on him. George [MacKay] is not playing him. These are two entirely created characters. But the spirit of it, what those men went through and the sacrifices they made, the selflessness, the sense of believing in something bigger than themselves, that's something that stayed with me and I've always felt lucky to have been born in peace-time."
1917 is in UK cinemas from 10th January 2020