Makeup artists, by nature, are connoisseurs of showmanship — always looking for ways to delight and surprise their audience. And no one excels at presenting mind-bending, truly original looks quite like
Val Garland
. The makeup pro — who is a fixture backstage with
MAC
at some of the most exclusive and creative shows, including Vivienne Westwood and Alexander McQueen — has a knack for crafting out-there beauty looks that not only look crazy-amazing, but cause us to
question the concept of beauty
and what we think is beautiful. When asked how she comes up with such weird and wonderful makeup, she simply replies that she's "
a bit bonkers
." Could we possibly love this talented, genius, unpretentious lady any more?
We got the chance to sit down with the makeup legend before she presented a Master Class with MAC to a room full of adoring makeup artists and talk about her amazing career, her very unique sense of humor (just ask one of her team members about her patented "CSL"), how she gets inspired to create those insane looks (dipping models' faces in glitter? Just crazy enough to work), and the best tricks in her beauty arsenal. Read on to learn more about this insanely fascinating, talented woman, and to see some of her most iconic works of cosmetics art.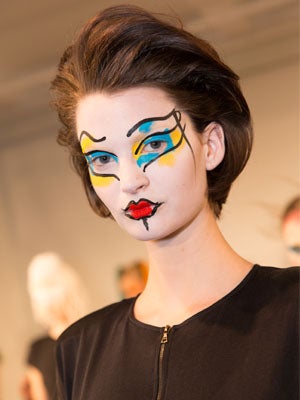 How did you get your start in this industry?
"I fell into the industry by pure chance, really. I was a hairdresser and I used to wear tons of makeup — tons, and tons, and tons — and photographers kept saying to me, 'Oh, you should do makeup.' I was a bit reluctant, and then one day the makeup artist didn't turn up. So, I had to do the makeup, and that shoot ended up being in a magazine in Australia. Then people just started booking me. I made a lot of mistakes because I'm self-taught, so in the beginning I would make everybody look like me — they always had big, black eyebrows and very black, heavy, sooty eyes — but it's only by making mistakes that you learn. As time went by, I kind of refined and honed my craft."
And how did you get involved with MAC?
"It the early '90s and I was doing Paul Smith's show, and Gordon [Espinet, MAC's senior vice president of makeup artistry] came to see me and sort of said, 'Look, we'd like to sponsor you. Use our makeup.' I think I had about 18 - 20 models, and MAC provided me with the makeup, and I just did all the models myself. I think I really got to work with them [consistently] when they used to sponsor Lee [Alexander] McQueen, his shows were when I first used a team from MAC. We've just had a fantastic, happy, long relationship because their guys are really good and are really well-trained. In the beginning I would resist them: 'No, no, I have to use my own makeup artists. We know what we're doing.' But, pretty soon I realized that they are there to support me and my vision, and that's brilliant."
What is it about MAC products that you in particular like, and why do you think it appeals to such a large, passionate audience?
"Well, they've got the technology behind their product. When you pick up an acid green eyeshadow, you know it's going to work. Nowadays, you can pick up some beautiful, they-look-great-in-the-palette products, and you dip your brush in it and it all breaks up. So, what I'm trying to say is the product delivers — it delivers so that's why people go back to it again and again.
Is there a certain category within the products that you particularly love?
"I love the Mineralize Foundation. I'm using that a lot of that at the moment. I like the finish I get with it — a kind of like satin finish with coverage. It's a very easy foundation to use. I love all their shadows and powders, and there's a great range of cream color bases. In my work, editorially, I use a lot of cream colors. They've got such a damn big range! They do cover everything. Their pencils are great, but I can't believe they're discontinuing one of my favorite pencils, Indigo."
Do you have any tips for readers on how they can master their eyeliner? "A lot of people shy away from liquid liner, but I think the secret to a great liner is practice. If you're scared, start your liner with a pencil, or take a brush, push it into the pencil, and then draw your line with the brush for a more accurate finish. Then you can go into the roots with a liquid liner, so you'll get that root definition, but, because you've got the pencil behind the liquid liner, you don't see any wobble. A Q-Tip is the perfect tool for straightening out a wibbly, wobbly line."
You clearly love to play with color, but a lot of the time we hear from readers, especially our older readers, that they don't feel they can wear bright makeup looks. Are there any tips they need to keep in mind? "You just have to look at Vivienne Westwood and Zhandra Rhodes — they're not stopping it. Or the fabulous Anna Piaggi, who just passed. It's up to you and what you feel comfortable with. I think when you're older you probably want to use the color on your mouth, as opposed to maybe on your eyes. But, yes, wear makeup because as you get older everything sort of gets quite soft, so you need to define and bring it back again. There is a famous woman who comes backstage who is quite mature, and she wears a cobalt blue eyeliner, and it looks fantastic. So, I think there are no rules. Maybe a pencil line in an aquatic blue, green, or burgundy — mix that with a black mascara and that can be just enough."
You work with runway, editorial, celebrities — is there a certain one that you prefer? "No, I like all of it, because I don't like routine. I like that today I'm doing a master class here, and tomorrow, I'm working on a film. The next day, when I arrive in London, I get off the plane and I'm working with a celebrity. I like the mix. But, I do especially love doing shows because I like the mania and the manic panic of 'how the hell are we going to get this done,' and then we just do."
We've been seeing the atmosphere backstage just get crazier every year. Does that have an effect on you? "Yes! Because the more photographers and people with iPhones in your face when you're working, the less you can go into the zone and work. But, I guess because it's become so common now, that you just get on with it."
That accessibility is great, because it's opened fashion up to so many people, but it definitely must be hard on you guys. "It is hard. And also, I think sometimes maybe, aren't we losing some of the magic? Because it's awful if something gets tweeted before the show, and it's such a disappointment and bad manners to the designer, who has worked so hard. But, you know what? Hair and makeup, if you're on it, you rule the backstage. So, if you're not liking it, then you sort of act and you put on that loud, foghorn voice and you say, 'Photographers, OUT.'"
We can't stop starting at your nails — they're awesome. "They're good, aren't they?! I am into nails and I like to change them up a lot. This is the first time that I've done gels."
Ooh, that's a slippery slope. We've seen MAC really do a bigger push into nails, is that something you like to see as a makeup artist?
"I love nails, I love the variety, and I love changing it up. In London, they are mad for nails. In Australia, mad for nails. And, we went to L.A. and it's amazing how even though there's a lot nails, there's a lot of nude. I thought that was kind of bizarre. In L.A. there's a lot of full-on dressing, there's a lot of exposed skin, there's a lot of short skirts, high heels, and then, these nude nails."
We talk about trends quite a lot, but they tend to have a cyclical nature to them. Has there been anything that you've seen recently that feels fresh, new, and doesn't feel like it's a rehash of something we've already seen? Or is it just, we're kind of just going to keep recycling at this point? "That's a hard one. I think there's always an element of referencing, but each time a reference comes around, I would like to think we find a new way of interpreting it. And, I hope that is what happens, and that is what will continue to happen. I can see that there's going to be a lot more gloss texture on lips [in 2013] that there hasn't been before. It's been matte, matte, matte. When I think to the late '90s and the early '00s, we were all glossing, and we haven't had that moment for a while. So, I think that's going to be coming back again."
Is there anything you think shouldn't come back, ever?
"I don't really like too much of a tan. I like a real tan, but I don't like an orange tan. You do still see a lot of that, unfortunately."