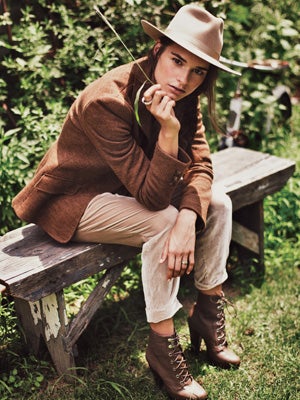 Confession: We practically live in sailor stripes, rolled-up baggy jeans, and Chelsea boots. The borrowed-from-the-boys look steal our hearts (and wallets) time after time, and if you ask us about the lasses that top our style icon list, we'll spew off top-notch trendsetters like Patti Smith, Jane Birkin, and Francoise Hardy — to name a few.
These mega-inspiring babes pushed sartorial boundaries and we love them for that. We get emotional just thinking about how they paved the way for ladies to dress outside the feminine standards of the past. They visually made the case that you didn't have to show a lot of skin to master sex appeal, and it's truly amazing how the much-lauded style still resonates today.
So, we're tickled pink to see an entire tome dedicated to the brazen gals throughout the ages — and their rebellious regalia.
Tomboy Style: Beyond The Boundaries of Fashion
explores those ensembles, and the influence androgynous threads have on art, fashion, and literature. We're itching to get our hands on a copy (
out now
!), and emulate these masculine-inspired looks, stat.

Photo: Via Marina Muñoz/Sebastian Kim