Before becoming famed Vogue's EIC, Diana Vreeland showed off her signature style in a column for Harper's Bazaar called "Why Don't You?" In this, sartorial magic was born. Taking inspiration from Vreeland's pithy franchise, we're enlisting help from our quirky network of friends — including editors, designers, and stylists — to bring you a little lighthearted (but totally useful!) styling advice.
ILLUSTRATED BY Ammiel Mendoza.
"Spray-paint your fruit bowl black, and use it as the centerpiece for your next dinner party. It'll leave people wondering what the hell it is!"
— Sophie Buhai,
Vena Cava
co-founder and co-designer
Way more interesting then the traditional flower arrangement, a spray-painted fruit bowl lends itself as the perfect conversation starter for your next wine-and-cheese night. Seriously — just look at those bananas! If that cheeky centerpiece doesn't catch your guests' attention, we don't know what will. Adding an unexpected embellishment to your table setting sets the tone for the meal — be it black fruit or any number of quirky home goods — whilst earning you major props for creativity. And, not one to let her guests suffer even a moment of forced fun, Buhai knows a thing or two about A-plus hosting duties. She's not only serving her guests the tastiest hor d'oeuvres and cocktails; she's also supplying them with endless table talk to carry them through the evening. So, if you, too, are in the market for statement-making decorations, we've selected 10 black entertaining pieces you'll want to feature on your dining-room table. Because, we know you've got way more spice than paprika and cumin in your home-goods arsenal.
Advertisement
ADVERTISEMENT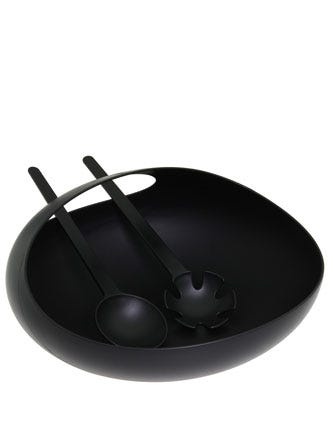 About Sophie
Sophie Buhai is the co-founder and co-designer of Vena Cava. She is originally from Los Angeles but moved to New York City in 1999 to attend Parsons School of Design. In 2003, Sophie founded Vena Cava with Lisa Mayock. Vena Cava is known for its neo-vintage approach, original prints, and elegant-yet-cool aesthetic. The design duo has been nominated twice for the coveted CFDA/Vogue Fashion Fund award, which Vena Cava took home in 2009. Vena Cava has collaborated with brands such as Gap, Uniqlo, Bloomingdale's, Via Spiga, and Converse. Its cemented its authority with a cool-girl following, the likes of which include Maggie Gyllenhaal, Natalie Portman, and Kirsten Dunst.